®

Today's poem is "Somewhere Golden"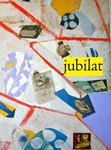 from Jubilat
Hannah Gamble
is the author of Your Invitation to a Modest Breakfast, selected by Bernadette Mayer for the 2011 National Poetry Series and to be published by Fence in 2012. Her poems and interviews appear or are forthcoming in APR, The Laurel Review, Indiana Review, Ectone, and elsewhere.
Books by Hannah Gamble:

Other poems on the web by Hannah Gamble:
Thirteen poems
"I Have a Right to My Preferences"
Two poems
Two poems
Hannah Gamble on Twitter.
About Jubilat:

Subscription: 1 year (2 issues), $14
jubilat * Bartlett 482 * Dept. of English * University of Massachusetts * Amherst, MA 01003-0515
Editors: Kevin González & Caryl Pagel


September 26, 2012: "Designated Driver" by Daniela Olszewska
September 25, 2012: "Geologic Time" by James Haug
January 10, 2012: "Of Genocide, or Merely Sound" by Roger Reeves
January 9, 2012: "the Theta Xi chapter" by Anne Marie Rooney
October 11, 2011: "Haiku (Failed)" by Nick Flynn
December 26, 2010: "Hurricane" by Yona Harvey
January 11, 2009: "Lake Powell, AZ" by Ian Harris
January 10, 2009: "So Perky" by Ken Rumble
January 5, 2009: "Brian's Brain" by William D. Waltz
March 7, 2008: "Your Way of Thinking" by Christopher Kang
March 5, 2008: "Gerhard Richter" by Chad Bennett
July 20, 2007: "Protean Woods" by Cathy Park Hong
July 18, 2007: "Goodbye Is Another Word for Not" by Mary Jo Bang
December 29, 2006: "Sonnet" by Karen Volkman
December 28, 2006: "The Object of the Object" by Nance Van Winckel
December 26, 2006: "I Am So Great" by Cecily Iddings
March 26, 2006: "Wherewithout" by Mark Bibbins
March 25, 2006: "Please Take Back the Sparrows" by Suzanne Buffam
September 17, 2005: "The Recollection of Some Object Formed From It" by Jen Tynes
September 13, 2005: "Tonight's The Night" Catherine Meng
January 30, 2005: "Dear Birds" by Mark Yakich
August 1, 2004: "Eclogue IV" by Andrea Zanzotto, translated by Wayne Chambliss
November 10, 2003: "Poem" by James Shea
November 8, 2003: "Catullus #2" by Gaius Valerius Catullus, translated by Rick Snyder
November 7, 2003: "Fetus in Orbit" by L. S. Klatt
November 5, 2003: "[ Worry-Worn: God ]" by Marina Tsvetaeva, translated by Christina Davis
February 16, 2003: "White Anklets" by Shauna Hannibal
February 14, 2003: "Each Thing Charged" by Ben Doyle
July 19, 2002: "Late Gallop" by Eugen Jebeleanu
July 3, 2002: "Not Here" by Richard Jackson
Home Web Weekly Features Archives About Verse Daily FAQs Submit to Verse Daily

Copyright © 2002-2012 Verse Daily All Rights Reserved