®

Today's poem is "Arrowhead"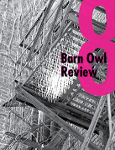 from Barn Owl Review
Tasha Cotter
's full-length collection of poetry, Some Churches, was released in 2013 with Gold Wake Press. Twice nominated for the Pushcart Prize, her work has appeared in journals such as Contrary Magazine, NANO fiction, and Booth. A graduate of the University of Kentucky and the Bluegrass Writers Studio, she lives in Lexington, Kentucky, where she works in higher education.
Other poems by Tasha Cotter in Verse Daily:
October 27, 2013: "Lies We Tell in Winter" "That winter there was a density to the snow. I told you stories..."
Books by Tasha Cotter:

Other poems on the web by Tasha Cotter:
"The Passing of Everyone Else"
Two poems
Three poems
"Enormous Mistakes"
"I Am the Wick and You Are the Match"
"Hydrangea"
"A Leaving"
Tasha Cotter's Website.
Tasha Cotter on Twitter.
About Barn Owl Review:

Subscription: 1 issue: $12
Editors-in-Chief: Mary Biddinger * Jay Robinson
Other poems by Barn Owl Review in Verse Daily:
November 2, 2015: "Ritual Training: Lake Erie, 2003" by Alexis Pope
March 27, 2015: "Movements Altogether" by Laura Eve Engel
March 25, 2015: "Triage" by Adam Crittenden
August 6, 2013: "Model Minority" by Jason Koo
May 23, 2012: "Epistle" by Kate Jenkins
May 22, 2012: "Frenemy" by Krystal Languell
May 21, 2012: "[ ] [ ], [ ] [ ]" by Daniela Olszewska
March 17, 2011: "Red Salmon" by David Dodd Lee
March 15, 2011: "Detachable" by Jenna Cardinale
August 29, 2010: "Too Darn Hot" by Sarah Perrier
August 26, 2010: "Worse Than The Bite" by Rebecca Givens Rolland
August 24, 2010: "Between Seasons" by Rob Schlegel
August 23, 2010: "The Claw" by Angela Vogel
March 19, 2009: "Clouds" by Jason Bredle
March 18, 2009: "How it Started" by Leslie Harrison
March 16, 2009: "Return as Black Currant" by Anna Journey
February 23, 2008: "Proposal" by Sandra Beasley
February 21, 2008: "Scientific Method" by Adam Clay
February 20, 2008: "Driving Out to Innisfree" by Matthew Thorburn
February 18, 2008: "Street Fight" by Wayne Miller
Home Web Weekly Features Archives About Verse Daily FAQs Submit to Verse Daily

Copyright © 2002-2015 Verse Daily All Rights Reserved