®

Today's poem is "Creation"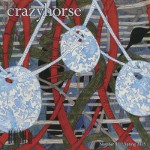 from Crazyhorse
J. P. Dancing Bear
is editor for The American Poetry Journal and Dream Horse Press. Bear also hosts the weekly hour-long poetry show, "Out of Our Minds," on public station KKUP and available as podcasts. He is the author of thirteen collections of poetry. His latest book is Love is a Burning Building, and his fourteenth and fifteenth collections respectively, Cephalopodic and Fish Singing Foxes, will both be released in 2015. His work has appeared or will shortly in American Literary Review, Shenandoah, Cimmaron Review, and elsewhere.
Other poems by J. P. Dancing Bear in Verse Daily:
June 12, 2014: "Margin of Silence" "you talk about the margin of silence..."
November 20, 2012: "Deadline World" "This way every minute is the last...."
May 29, 2012: "Debris of an Automobile Giving Birth to a Blind Horse Biting a Telephone" "It?s all fenders and hooves with you, she says: the raw light..."
January 20, 2011: "Gacela of Twilight Bats" "The twilight reveals the edges at play in pitch..."
June 10, 2010: "A Brief Informal History" "For us, there was never a Harry Houdini..."
February 26, 2009: "Legitimacy Is So Chummy" "First thing is: everyone presses the room...."
August 21, 2008: "Natural Enemies" "all day the owl is dreaming of a crow, dreaming..."
November 13, 2007: "Poem Starting with a Line by Jason Bredle" " According to Hercules, if we make an angel..."
July 26, 2007: "Gacela of Animal Theory" " Every time I explain Schrödinger's cat to the animal..."
July 16, 2006: "On Falling and Failing" " If Icarus were to speak, he'd kvetch..."
June 28, 2005: "West Nile" "The birds began to rust..."
April 27, 2005: "Iago, the Poet" ""First, let me say it is sickening, this syrupy public..."
February 14, 2005: "Sky of Sleep" "Sometimes she is a tree..."
August 19, 2004: "Gacela of Animal Wisdom" "Apollo, Apollo, when will you leave the animals alone?..."
August 8, 2003: "Island Myths" by "We were once two islands..."
June 14, 2003: "Persephone at the Farmer's Market" "Even now, I cannot lose the memory of scent...."
May 3, 2003: "Departing Phoenix" "I swallow bird songs that do not resurface..."
October 10, 2002: "The Lonelier Moon" "Armstrong has seen it / from its sister...."
Books by J. P. Dancing Bear:

Other poems on the web by J. P. Dancing Bear:
Two poems
"Within"
"Across the Lake of Clouds"
Three poems
"Genesis in Retrograde"
Three poems
"On the Lip of the Valley"
Two poems
Three poems
Two poems
Two poems
Five poems
"Frogpond"
"Some Are So Close"
"By A Monkey On A Unicycle"
"Inner Voyeur and Moon"
Three poems
Three poems
Two poems
J. P. Dancing Bear's Website.
J. P. Dancing Bear on Twitter.
About Crazyhorse:

Subscription: 1 year (2 issues), $15
Crazyhorse * Department of English * College of Charleston * 66 George St. * Charleston, SC 29424
Editor: Emily Rosko

Other poems from Crazyhorse in Verse Daily:
August 24 2015: "Passage" by Caylin Capra-Thomas
April 17, 2015: "If We Must be Symbolic" by Bryan Narendorf
April 15, 2015: "Field Design" by Rebecca A. Spears
April 14, 2015: "Limantour" by Rebecca Black
October 30, 2014: "Melt" by C. J. Sage
October 28, 2014: "Farthingale" by Kimberly Johnson
October 27, 2014: "Arroyo" by Kit Frick
May 19, 2014: "To the Reader" by Mark Svenvold
May 15, 2014: "How Move the Boulder" by Marc McKee
December 9, 2013: "Travel Plaza" by Heather Christle
December 5, 2013: "Shame" by Bruce Bond
December 4, 2013: "In a Landscape: XXXIV" by John Gallaher
March 18, 2013: "Ealuscerwen" by Edward Mayes
March 14, 2013: "Little Muchness" by Mary Ann Samyn
March 12, 2013: "Revisiting Snow Man" by Scott Minar
March 11, 2013: "Song Riddle: Night-Blooming Saguaro" by Karen An-Hwei Lee
January 10, 2013: "First Smile" by Alessandra Lynch
October 11, 2012: "'The way to keep...'" by Alessandra Lynch
October 8, 2012: "Galena" by Steve Gehrke
October 3, 2012: "Flow" by Maxine Scates
October 2, 2012: "Building the Waterfall" by Sarah Barber
October 1, 2012: "Pilgrimage" by Rebecca Morgan Frank
February 21, 2012: "from 'Clangings'" by Steven Cramer
February 20, 2012: "Genealogy (rest)" by Danniel Schoonebeek
February 14, 2012: "Epithalamium" by Carolina Ebeid
August 4, 2011: "Near Miss" by Michael Chitwood
August 3 "The Pier" by Christopher DeWeese
August 1 "The Estate of Single Blessedness" by Mary Ruefle
February 18, 2011: "Like a Daffodil" by Mary Ruefle
January 27, 2011: "Valentine with broken birds" by Joni Wallace
January 23, 2011: "First Domestic" by Anne Marie Rooney
January 19, 2011: "Valentine with saints and sharps" by Joni Wallace
September 27, 2010: "Timbered" by Emily Rosko
September 26, 2010: "Cell Phone God" by Henry Hart
September 24, 2010: "Not Something To Be Captured, Did You See the Signs?" by Lucy Anderton
January 21, 2010: "Aubade with whales" by Bob Hicok
January 18, 2010: "Earth and Sky" "Of all things contained here..."
July 9, 2009: "The Fox" by Dean Young
July 6, 2009: "The House Rhapsody" by John Gallaher
July 1, 2009: "Matryoshka" by Teresa Pfeifer
June 29, 2009: "The Euphoria of Peoria" by Dean Young
January 9, 2009: "Go On, Sure, Why Not" by Gail Wronsky
January 8, 2009: "Psalm against a Rapture" by K. A. Hays
January 7, 2009: "In the hospital parking lot" by Marianne Boruch
July 26, 2008: "Fire" by Edip Caserver, translated by Richard Tillinghast and Julia Clare Tillinghast
July 21, 2008: "(detail)" by Billy Collins
January 6, 2008: "bearing on the glory of love" by Deborah Bogen
January 5, 2008: "The Dime-Store Parakeet" by Gary Soto
June 15, 2007: "O Mouth Fable" by Elena Karina Byrne
June 12, 2007: "Eat This" by Nance Van Winckel
June 11, 2007: "Inside the Body" by Nathan Hoks
December 24, 2006: "Northwest" by Stacie Cassarino
December 21, 2006: "If We Are Pretty Ghosts. Hammered In" by Kerri Webster
December 18, 2006: "Salt" by Gary Soto
June 11, 2006: "Eight" by Todd Smith
June 10, 2006: "Anecdote of the Field" by John Gallaher
June 7, 2006: "Bitterness" by Charlie Smith
June 5, 2006: "Again (Wrightsville Beach)" by Robert Creeley
December 23, 2005: "Spell for Setting the Sun" by Susan Meyers
December 20, 2005: "And the Wound Says" by Nance Van Winckel
December 18, 2005: "The Elephant's Graveyard" by David Wagoner
May 19, 2005: "Levels" Alexandra Teague
May 18, 2005: "Poem with No Moral at the End" Charlie Clark
November 28, 2004: "Spring and Winter, Coeval" by Charles M. Israel, Jr.
November 26, 2004: "Botanists Who Feel Excluded Rejoice" by Anthony Lacavaro
May 23, 2004: "Template" by A. V. Christie
May 21, 2004: "Is More Than" by Susan Hutton
May 17, 2004: "Solar Ice" by Paul Mariani
December 12, 2003: "East Dakota" by Edward Haworth Hoeppner
December 4, 2003: "May Suspensions" by James McCorkle
November 27, 2003: "Reservoir" by Doug Sanders
May 14, 2003: "Owls in the City Hills" by D. R. Goodman
May 13, 2003: "The Sightstop" by Bill Knott
January 26, 2003: "To His Mistress Going to Bed" by Nathan Hoks
January 21, 2003: "The Teller is the Only Survivor of the Fairy-Tale Ending" by Mark Yakich
January 20, 2003: "Cicadas And" by Nathan Hoks
Home Web Weekly Features Archives About Verse Daily FAQs Submit to Verse Daily

Copyright © 2002-2015 Verse Daily All Rights Reserved