®

Today's poem is "This World"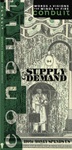 from Conduit
Oni Buchanan
has published three books of poetry,Must a Violence, Spring and What Animal. She is a concert pianist who actively performs across the U.S. and abroad, and is the founder and director of Ariel Artists, a Boston-based management company that represents a national roster of classical and contemporary-classical musicians pursuing visionary performance projects.
Other poems by Oni Buchanan in Verse Daily:
October 14, 2012: "The Sun Turns Like a Pinwheel" "A raft stretches behind our mother..."
July 24, 2009: "Then From Our Green Branch" "then the "safety net" they held..."
Books by Oni Buchanan:

Other poems on the web by Oni Buchanan:
"Like a Near Fold"
"Dear Lonely Animal"
Two poems
"When All the Leaves"
Two poems
"The Occupation"
Four poems
Oni Buchanan's Website.
Oni Buchanan According to Wikipedia.
About Conduit:

Subscription: 1 year (2 issues), $18
Conduit * 788 Osceola Avenue * Saint Paul, Minnesota 55105
Editor: William D. Waltz
Other poems by Conduit in Verse Daily:
July 23, 2013: "It's Here In The" by Russell Atkins
August 16, 2012: "Landscape with Rain and Glass" by Terence Winch
August 8, 2012: "The Ocean" by Dorothea Lasky
August 7, 2012: "Bowlful of Teeth" by John Beer
August 6, 2012: "The Platitudes" by Terence Winch
October 24, 2011: "North of North" by James Haug
October 22, 2011: "Oracle" by Dean Young
October 20, 2011: "What the Mapmaker Knows" by Mary Jo Bang
October 19, 2011: "Anthem" by Michael Robins
October 18, 2011: "For Soren" by Noelle Kocot
October 18, 2010: "Penny Pincher Leaves Millions" by Mark Bibbins
October 17, 2010: "That Kind of Party" by Patrick Swaney
October 15, 2010: "Ode to Autumn" by Susan Browne
May 30, 2009: "The Terrible Poem" by Dara Wier
May 28, 2009: "The Match" by Carley Moore
May 26, 2009: "asunder" by Craig Arnold
May 25, 2009: "Moving day" by Bob Hicok
May 25, 2008: "The Party by the Lake" by Kevin Prufer
May 22, 2008: "[I Saw My Face on the Dull Head]" by Adam Clay
May 19, 2008: "Saint of Perpetual Sorrow" by James Meetze
April 27, 2008: "The Cetacean Society" by Noelle Kocot
April 26, 2008: "Kingdom Come At Once" by Travis Brown
April 25, 2008: "Baby Epic" by Tanya Larkin
Home Web Weekly Features Archives About Verse Daily FAQs Submit to Verse Daily

Copyright © 2002-2013 Verse Daily All Rights Reserved