®

Today's poem is "animal, vegetable, mineral"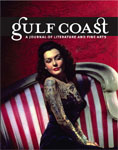 from Gulf Coast
Marty McConnell
lives in Chicago, Illinois where she works as a fund-raiser for a youth and family center. She received her MFA from Sarah Lawrence College, and her work has recently appeared in A Face to Meet the Faces: An Anthology of Contemporary Persona Poetry, City of the Big Shoulders: An Anthology of Chicago Poetry, Indiana Review, Crab Orchard Review, Salt Hill, Beloit Poetry Journal, Muzzle Magazine, and Drunken Boat.
Other poems by Marty McConnell in Verse Daily:
November 20, 2010: "the fidelity of disagreement" "because there are seven kinds of loneliness..."
Books by Marty McConnell:

Other poems on the web by Marty McConnell:
"Frida Kahlo to Marty McConnell"
"survival poem #17"
"Instructions for a Body"
"collision theory"
Two poems
"Fable Telling How Night Invented Herself Out of Sound"
"Marrying the Violence"
Marty McConnell's Blog.
Marty McConnell on Twitter.
About Gulf Coast:

Subscription: 1 year (2 issues), $16
Gulf Coast: A Journal of Literature and Fine Art * Department of English * University of Houston * Houston, TX 77204-3013
Poetry Editors: Lauren Berry, Anna Journey and Kent Shaw
Other poems by Gulf Coast in Verse Daily:
May 9, 2013: "Risk Management Memo: Small Enterprise" by Mary Biddinger
August 23, 2012: "Brown Refrigerator" by Rick Barot
August 18, 2012: "Dumb Girl" by Lissa Cattrone
August 15, 2012: "From 'Elegy in X Parts'" by Matt Rasmussen
August 14, 2012: "Wright Park" by Rick Barot
August 13, 2012: Two poems by Simone Muench
December 21, 2011: "Day for Years of Distress" by Elaine Bleakney
December 20, 2011: "A Dedication to the Rich Is in the Ark" by Robert Ostrom
December 19, 2011: "We're in the Ocean, Or I'm Alone" by Lily Brown
November 7, 2011: "The Space Traveler's Tense" by Benjamin S. Grossberg
December 24, 2010: "A Segment of Irradiated Mangosteen" by Jack Boettcher
December 23, 2010: "Tulip is the bravest flower, I mean bird." by y madrone
September 2, 2010: "His Theogony" by Timothy Donnelly
September 1, 2010: "Speculatrix at the Mountaintop Observatory" by Cecily Parks
December 10, 2009: "Antietam" by Sandra Beasley
December 9, 2009: "Pitbull" by Kimberly Johnson
December 3, 2009: "from 1977-2050" by Zachary Schomburg
May 15, 2009: "Talking About the Wind" by Katie Peterson
May 11, 2009: "Little Apocalypse" by Rachel Zucker
May 8, 2009: "Department of Telescopes" by Joshua Poteat
November 4, 2008: "We Are Taking the Trees" by Sarah Wolfson
November 3, 2008: "Freud's Container" by Terese Svoboda
November 1, 2008: "Spanish Fruit Bomb" by Mary Ruefle
October 30, 2008: "Red" by Allan Petterson
October 29, 2008: "My Heart to Fear" by Heather McHugh
June 15, 2008: "The End" by Victoria Chang
June 14, 2008: "Morality" by Susie Meserve
June 10, 2008: "First Date, and Still Very, Very Lonely" by Brenda Shaughnessy
March 10, 2008: "Reclamation" by Bob Hicok
March 9, 2008: "Parable of a Blade of Grass" by Roger Reeves
April 18, 2005: "Sonnet" by Karen Volkman
April 4, 2005: "Figures We're Meant to Believe In" by George Looney
March 14, 2005: "The Museum of Being Born" by Jennifer Militello
Home Web Weekly Features Archives About Verse Daily FAQs Submit to Verse Daily

Copyright © 2002-2013 Verse Daily All Rights Reserved