®

Today's poem is "Erasure"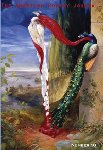 from American Poetry Journal
Ralph Angel
is the author of four books of poetry, most recently Exceptions and Melancholies (2007 PEN USA Poetry Award), as well as a translation of the Federico García Lorca collection, Poema del cante jondo / Poem of the Deep Song. Both are available from Sarabande Books.
Other poems by Ralph Angel in Verse Daily:
October 5, 2002: "From the Balcony" "Out there, where whales swim upon a building and muffled..."
August 21, 2002: "Even Because" "Because it all just breaks apart, and the pieces scatter..."
Books by Ralph Angel:

Other poems on the web by Ralph Angel:
Ten poems
Two poems
Two poems
Five poems
"The Wind Will Carry Us"
"Evolving Similarities"
"The Privilege of Silence"
Ralph Angel According to Wikipedia.
About American Poetry Journal:

Subscription: 1 issue, $20
The American Poetry Journal * PO Box 2080 * Aptos, CA 95001-2080
Editor: J.P. Dancing Bear

Other poems from The American Poetry Journal in Verse Daily:
April 27, 2011: "The Folly of Mercutio in a Pacifist Town" by Phoebe Reeves
April 26, 2011: "Summons" by Sandra Kohler
March 19, 2010: "Ilona's Eyelids" by Eileen G'Sell
March 18, 2010: "Asphodel" by Angela Vogel
November 30, 2008: "Winter Sea" by Jacqueline Marcus
November 28, 2008: "For All Anyone Knows" by Susan Meyers
November 26, 2008: "Lucifer's Beginning Poetry Workshop" by Philip Memmer
November 25, 2008: "Black Crosses" by T. Zachary Cotler
November 24, 2008: "July" by C.J. Sage
September 27, 2007: "We Little Historians" by Nicolas A. Destino
September 26, 2007: "Spring" by Jennifer Juneau
September 25, 2007: "Pacific" by Lola Haskins
September 24, 2007: "Raft" by Dorianne Laux
March 16, 2007: "The San Simeon Zebras" by C. J. Sage
March 8, 2007: "Sevenling (Emotions scramble)" by DGB Featherkile
March 6, 2007: "Love Note to Alfred E. Neuman" by C. J. Sage
September 1, 2006: "Clockwork" by Steven D. Schroeder
August 29, 2006: "At The End Of A Long And Varied Career" by Tom C. Hunley
February 2, 2006: "Paradise in the City of Shivering Bells" by S.D. Lishan
January 31, 2006: "Cupid and the Party Dress" by Cassie Sparkman
January 29, 2006: "When I Was Gone to Summer" by Theodore Worozbyt
January 26, 2006: "The Dark Pelican" by C.J. Sage
January 23, 2006: "Holy Spirit" by Nicole Cuddeback
October 6, 2005: "How to Talk to Your Yard as If It's Your Lover" by Mary Christine Delea
September 29, 2005: "Love Song to My Neighborhoods" Kelli Russell Agodon
September 27, 2005: "Vermont Barn" Lynne Knight
September 26, 2005: "Enter, Fall" Margot Schilpp
March 1, 2005: "Wonder Woman Dreams of the Amazon" by Jeannine Hall Gailey
February 24, 2005: "Garden of the Material" by B. L. P. Simmons
February 23, 2005: "Catch" by Jennifer Michael Hecht
Winter Sea 22, 2004: "Angel Shark" by Hailey Leithauser
Winter Sea 21, 2004: "A H O Y !" by Jason Gray
Winter Sea 19, 2004: "It is the Soul" by Hannah Stein
Home Web Weekly Features Archives About Verse Daily FAQs Submit to Verse Daily

Copyright © 2002-2011 Verse Daily All Rights Reserved