®

Today's poem is "Triceratops ♥ You"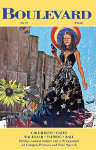 from Boulevard
Owen McLeod
is a studio potter and professor of philosophy at Lafayette College. His poems have recently found homes in FIELD, The Massachusetts Reveiw, The Missouri Review, New England Review, Ploughshares, The Yale Review, and elsehere.
Other poems on the web by Owen McLeod:
"What's in the Steamer Trunk?"
Two poems
"Click Here to Get Ripped"
"A Brief History of the Universe"
"Equitum Tres Coloratum"
"An Argument from the Phaedo"
"Northeast Kingdom"
"Cumulus Mediocris"
Owen McLeod's Website.
Subscription: 1 yr (3 issues) $15
Boulevard * 6614 Clayton Rd * Box 325 * Richmond Heights, MO 63117
Senior Editors: Edmund de Chasca * Eric Miles Williamson
Other poems by Boulevard in Verse Daily:
May 11, 2017: "Pennies from Heaven" by John Blair
July 22, 2016: "Ghost Encounter" by Annah Browning
December 13, 2015: "Room Key" by David Lehman
December 11, 2015: "It Does Kind of Burn. Goodbye." by Henry Crawford
December 10, 2015: "The Night and the Cold" by Charles Simic
November 5, 2014: "At Last" by Gerald Stern
November 3, 2014: At Last by Edward Nobles
January 16, 2013: "Report from the Provinces" by Wayne Miller
Home
Archives Web Weekly Features About Verse Daily FAQs Submit to Verse Daily

Copyright © 2002-2018 Verse Daily All Rights Reserved