®

Today's poem is "Toward Repose"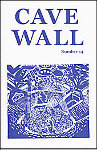 from Cave Wall
Jane O. Wayne
is the author of four collections: Looking Both Ways (University of Missouri Press, 1984 ), which received the Devins Award for Poetry; A Strange Heart (Helicon Nine Editions, 1996), a recipient of the Marianne Moore Prize and the Society of Midland Authors Award; From the Night Album (Pecan Grove, 2006), and The Other Place You Live (Mayapple Press, 2010). Her work received the 2015 "Tradition of Literary Excellence Award" given jointly by the St. Louis Literary Consortium and University City Arts and Letters Commission.
Other poems by Jane O. Wayne in Verse Daily:
April 24, 2011: "The Hum of Imagined Bees" "Some non-stop motor..."
Books by Jane O. Wayne:

Other poems on the web by Jane O. Wayne:
"If Mourning"
"In Praise of Zigzags"
Two poems
About Cave Wall:

Subscription: 1 year (2 issues), $10
Cave Wall Press, LLC * P.O. Box 29546 * Greensboro, NC 27429-9546
Editor: Rhett Iseman

Other poems from Cave Wall in Verse Daily:
March 30, 2017: "In the Patio IV (Black Door)" by Jessica Jacobs
August 26, 2014: "Sincerely, the Sky" by David Hernandez
October 25, 2012: "Pier" by Michael Chitwood
October 24, 2012: "There's this string" by Matthew Thorburn
October 14, 2011: "Assault on Precinct 13" by Andrew Kozma
May 19, 2011: "Feast Day" "The town by the hundreds..."
May 18, 2011: "Flight Log" by Jim Daniels
November 7, 2010: "Arachne in Detention" by Saara Myrene Raappana
November 6, 2010: "View from the High Road" by Lisa Fay Coutley
June 19, 2010: "Waiting" by April Lindner
October 27, 2009: "Folding the Fitted Sheet" by A.V. Christie
October 26, 2009: "In England Again after Years Away" by Lois Williams
March 17, 2009: "Threshold" by Kathryn Kirkpatrick
October 5, 2008: "Progress" by Carrie Fountain
October 2, 2008: "Goat" by C. J. Sage
September 30, 2008: "The Sand Speaks" by Sandra Beasley
August 30, 2007: "Reciprocity" by Carl Phillips
August 27, 2007: "The Very Old Man" by Patrick Phillips
February 18, 2007: "After the Affair" by Claudia Emerson
February 15, 2007: "Surprising the Gods" by Dan Albergotti
Home
Archives Web Weekly Features About Verse Daily FAQs Submit to Verse Daily

Copyright © 2002-2017 Verse Daily All Rights Reserved