®

Today's poem is "Elegy for the Travel Agents"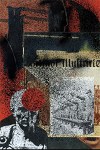 from Southern Indiana Review
Christopher Citro
is the author of The Maintenance of the Shimmy-Shammy (Steel Toe Books, 2015). He won the 2015 Poetry Competition at Columbia Journal, and his recent and upcoming publications include poetry in The Missouri Review, Prairie Schooner, Ploughshares, Best New Poets 2014, The Journal, Columbia Poetry Review, Mid-American Review, The Iowa Review blog, and Hayden's Ferry Review and creative nonfiction in IBoulevard, Passages North, and Colorado Review. Citro received his MFA from Indiana University and lives in Syracuse, New York.
Other poems by Christopher Citro in Verse Daily:
June 11, 2015: "A Theme Song That Never Gets Old" "We keep a bear above our bed...."
July 8, 2014: "An Emergency Every Day of the Week" "It's how you know I love you..."
July 14, 2013: "An Emergency Every Day of the Week" "It's how you know I love you..."
November 26, 2009: "I Never Intend To, How 'Bout You?" "It's eight o'clock. Time to plug the ladder in. I love our new..."
September 4, 2009: "Emily, It's Better This Way" "They landed in the morning and nothing happened...."
Books by Christopher Citro:

Other poems on the web by Christopher Citro:
"Our Beautiful Life When It's Filled with Shrieks"
Three poems
Two poems
Four poems
Three poems
"Improving the Odds"
Three poems
Six poems
"Apparently, I'm Not a Joiner"
Two poems
Five poems
"Me in My Place"
Three poems
"Done Playing Hard To Get"
"First Indications (of Trouble at the Ranch)"
Christopher Citro's Website.
Subscription: $16
Southern Indiana Review * College of Liberal Arts * 8600 University Boulevard * Evansville, Indiana 47712
Poetry Editor: Matthew R. Graham
Other poems by Southern Indiana Review in Verse Daily:
July 13, 2017: "Silent Anniversary" by George David Clark
July 12, 2017: "Goldenrod" by Maggie Smith
December 6, 2015: "O Mercy Me" by Rebecca Gayle Howell
November 27, 2014: "Event" by Blas Falconer
December 15, 2011: "Actual Animals" by Rebecca Hazelton
December 14, 2011: "Endurance" by Richard Jackson
February 26, 2010: "(it was so hot...)" by Matthew Guenette
July 20, 2009: "These Gods are Known by the Shapes of Their Teeth" by John M. Anderson
July 12, 2009: "Wound" by Corinne Wohlford Taff
July 10, 2009: "Love Note" by E.G. Burrow
July 6, 2007: "The Cruelest Month" by Grace Bauer
Home
Archives Web Weekly Features About Verse Daily FAQs Submit to Verse Daily

Copyright © 2002-2017 Verse Daily All Rights Reserved