®

Today's poem is "Man"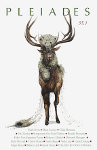 from Pleiades
Rebecca Lehmann
's book is Between the Crackups (Salt, 2011).
Other poems by Rebecca Lehmann in Verse Daily:
March 23, 2014: "Time Traveler" "In the cavern I hung ropes..."
June 3, 2013: "Father Time Has a Face Made of Late-Season Vegetables" "The sundry displays..."
Books by Rebecca Lehmann:

Other poems on the web by Rebecca Lehmann:
"Natural History"
"Godfather Death"
"Bucolic Calling"
"A Gun In The First Act"
"Watching The Wizard of Oz Summer 1988"
Two poems
Rebecca Lehmann's Website.
Rebecca Lehmann on Twitter.
About Pleiades:

Subscription: $16
Pleaides: A Journal of New Writing * Department of English * Central Missouri State University * Warrensburg, MO 64093 Editor: Kathryn Nuernberger

Other poems from Pleiades in Verse Daily:
November 18, 2015: "Snow" by Nellie Bridge
November 16, 2015: "The Desired Change Will Occur" by Bill Carty
May 15, 2015: "For the Cliff that Is Leaving Us" by Amy Sparks
May 13, 2015: "Nethering" by Peter Cooley
August 20, 2014: "Tame Me" by Ralph Angel
August 19, 2014: "Swift Trucks" by Erika Meitner
August 22, 2013: "Man" by Michael Bazzett
August 21, 2013: "Paranoia Is a Kind of Rain" by Daniel Moysaenko
August 20, 2013: "Dift" by Gregory Lawless
May 1, 2013: "Phlogiston Footage" by Nicky Beer
April 26, 2013: "Elegy" by Cintia Santana
April 25, 2013: "Brief Study of Parades" by Jill Osier
April 24, 2013: "How I Made My Money" by Noah Blaustein
July 12, 2012: "In a Landscape: XLI" by John Gallaher
July 11, 2012: "The Last Word" by William Olsen
July 10, 2012: "This Is What It Feels Like When I'm Telling the Truth" by Kent Shaw
July 9, 2012: "The Buzzard and Reversal" by Michael Bazzett
February 15, 2012: "Body of Moving and Light" by Peter Streckfus
February 13, 2012: "A Prisoner of Things" by Alan Michael Parker
September 7, 2011: "Camera Lucida" by Joshua Diamond
September 6, 2011: "Like a Machine, Struggle for Mother" by Andrea Baker
September 1, 2011 "Arrows" by Bruce Bond
March 10, 2011: "Man as a Red Dress" by Victoria Chang
March 7, 2011: "Aspirin and Shadow" by Chris Forhan
March 1, 2008: "Apostasy" by Carol Quinn
June 27, 2007: "The Sunset" by Randall Mann
June 25, 2007: "There Is No Pretending" by Mary Jo Bang
February 13, 2005: "Ironwork" by Stephanie Bolster
February 12, 2005: "Afterworld" by Sophie Cabot Black
February 11, 2005: "Cruelties" by Stephen Dunn
Home Web Weekly Features Archives About Verse Daily FAQs Submit to Verse Daily

Copyright © 2002-2015 Verse Daily All Rights Reserved