®

Today's poem is "Grandeur in a mug of wine"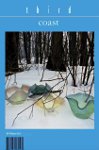 from Third Coast
Alexis Pope
is the author of the poetry collection Close to the Shore, published by Michigan State University Press. Her work has appeared in the Kenyon Review, Hotel Amerika, Delta Review, North American Review, North Dakota Quarterly, Brooklyn Review, and Fine Line. As a contributing political writer for Buzz"ash at Truthout.org, she writes about the threat of global warming.
Other poems by Alexis Pope in Verse Daily:
November 2, 2015: "Ritual Training: Lake Erie, 2003" "Interested in nothing is how I explained myself..."
June 11, 2014: "A No Good Thunderstorm" "Dear Hurricane, my name is gentle..."
Books by Alexis Pope:

Other poems on the web by Alexis Pope:
Three poems
Five poems
"I Guess It's Too Late to Live on the Farm"
Three poems
Two poems
"How to Build a Fire Pit in the Backyard"
Three poems
Two poems
"No Good Decanter"
Five poems
"Blessed Are The Weak"
Two poems
Two poems
Two poems
Alexis Pope's Website.
Alexis Pope on Twitter.
About Third Coast:

Subscription: $16
Third Coast * Western Michigan University * English Department * 1903 W Michigan Ave. * Kalamazoo, MI 49008-5331
Poetry Editor: Elizabyth Hiscox & Glenn Shaheen
Other poems by Third Coast in Verse Daily:
June 25, 2014: "Narrative" by Jenny Molberg
June 24, 2014: "A mother poem" by Tom Useted
November 21, 2013: "Hurricane Birds" by dawn lonsinger
November 19, 2013: "Nocturne" by Max Somers
November 18, 2013: "A Taste, With Explosions of Woody and Floral Undertones" by Katie Jean Shinkle
Home Web Weekly Features Archives About Verse Daily FAQs Submit to Verse Daily

Copyright © 2002-2015 Verse Daily All Rights Reserved