®

Today's poem is "Frenemy"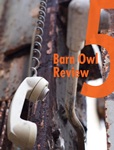 from Barn Owl Review
Krystal Languell
is the author of Call the Catastrophists (BlazeVOX [books], 2011). She was a semi-finalist for the 2010 Akron Poetry Prize and a finalist for the 2011 National Poetry Series. Founder of the feminist literary magazine Bone Bouquet, she serves as a collaborative board member for Belladonna Series as well as editor-in-cheif at Noemi Press. She teaches composition in the CUNY system.
Books by Author Name:

Other poems on the web by Krystal Languell:
Two poems
"Wife to Magritte"
Two poems
from The Etymologies
Four poems
Two poems
"JWOWW"
"Unsatisfactory Progress"
from 56 Etymologies
"Arts & Crafts"
"The Same Sound Every Night"
"Suddenness"
"Suggestions for Longevity"
"Our Songs"
Krystal Languell's Blog.
About Barn Owl Review:

Subscription: 1 issue: $12
Editors-in-Chief: Mary Biddinger * Jay Robinson
Other poems by Barn Owl Review in Verse Daily:
May 21, 2012: "[ ] [ ], [ ] [ ]" by Daniela Olszewska
March 17, 2011: "Red Salmon" by David Dodd Lee
March 15, 2011: "Detachable" by Jenna Cardinale
August 29, 2010: "Too Darn Hot" by Sarah Perrier
August 26, 2010: "Worse Than The Bite" by Rebecca Givens Rolland
August 24, 2010: "Between Seasons" by Rob Schlegel
August 23, 2010: "The Claw" by Angela Vogel
March 19, 2009: "Clouds" by Jason Bredle
March 18, 2009: "How it Started" by Leslie Harrison
March 16, 2009: "Return as Black Currant" by Anna Journey
February 23, 2008: "Proposal" by Sandra Beasley
February 21, 2008: "Scientific Method" by Adam Clay
February 20, 2008: "Driving Out to Innisfree" by Matthew Thorburn
February 18, 2008: "Street Fight" by Wayne Miller
Home Web Weekly Features Archives About Verse Daily FAQs Submit to Verse Daily

Copyright © 2002-2012 Verse Daily All Rights Reserved