®

Today's poem is "In a Landscape: XLI"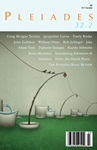 from Pleiades
John Gallaher
's book-length essay-poem, In a Landscape (BOA, 2015) is forthcoming; his fourth poetry collection, a collaboration with G. C. Waldrep, is Your Father on the Train of Ghosts (2011).
Other poems by John Gallaher in Verse Daily:
May 17, 2012: "Revelation in Slow Time" ( with G.C. Waldrep) "Here, where no one is in a hurry..."
May 9, 2012: "Rose as Red" ( with G.C. Waldrep) "It's still not good enough. And you were always told..."
December 22, 2011: "Where They Feed Their Children to Kings" "The best idea I ever had..."
September 4, 2011: "The Bridge at Rest" ( with G.C. Waldrep) "The bridge is dreaming again...."
July 6, 2009: "The House Rhapsody" "For the difficulty of dinner tables..."
May 7, 2009: "Duly Noted" "Every now and then you've simply got to empty it all out..."
January 23, 2009: "What We're up Against" "On the way home from the funeral..."
June 8, 2007: "Earth-tone Anecdote" " They are speaking in the other room..."
May 12, 2007: "When I Say World I Mean Please" " We begin somewhat after the beginning, in..."
January 4, 2007: "A Guess Is Spiritual Then, & Will Try to Help You" " Two pregnant women are walking together under the portico...."
June 10, 2006: "Anecdote of the Field" " The children are running across the field, each..."
May 26, 2005: "No Encores. No Autographs." ""When I was little, and could float..."
Books by John Gallaher:

Other poems on the web by John Gallaher:
Three poems
Four poems
Two poems
"Still Life"
"The Poem from the Poem: Ars Poetica II"
Three poems
"Bomb Went Off"
"On Your Brilliant Escape"
"A Guidebook to When Things Were Better"
"A Guidebook to The Afterlife"
John Gallaher's Blog.
John Gallaher according to Wikipedia.
John Gallaher on Twitter.
About Pleiades:

Subscription: $16
Pleaides: A Journal of New Writing * Department of English * Central Missouri State University * Warrensburg, MO 64093 Editor: Kathryn Nuernberger

Other poems from Pleiades in Verse Daily:
July 11, 2012: "The Last Word" by William Olsen
July 10, 2012: "This Is What It Feels Like When I'm Telling the Truth" by Kent Shaw
July 9, 2012: "The Buzzard and Reversal" by Michael Bazzett
February 15, 2012: "Body of Moving and Light" by Peter Streckfus
February 13, 2012: "A Prisoner of Things" by Alan Michael Parker
September 7, 2011: "Camera Lucida" by Joshua Diamond
September 6, 2011: "Like a Machine, Struggle for Mother" by Andrea Baker
September 1, 2011 "Arrows" by Bruce Bond
March 10, 2011: "Elegy as a Red Dress" by Victoria Chang
March 7, 2011: "Aspirin and Shadow" by Chris Forhan
March 1, 2008: "Apostasy" by Carol Quinn
June 27, 2007: "The Sunset" by Randall Mann
June 25, 2007: "There Is No Pretending" by Mary Jo Bang
February 13, 2005: "Ironwork" by Stephanie Bolster
February 12, 2005: "Afterworld" by Sophie Cabot Black
February 11, 2005: "Cruelties" by Stephen Dunn
Home Web Weekly Features Archives About Verse Daily FAQs Submit to Verse Daily

Copyright © 2002-2012 Verse Daily All Rights Reserved