®

Today's poem is "Two poems"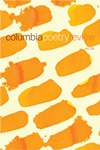 from Columbia Poetry Review
C. McAllister Williams
is the author of the chapbooks William Shatner (Alice Blue Books, 2010) and Neon Augury (Fact-Simile Editions, forthcoming). Recent work can be found in New Orleans Review, ELEVATOR, Dread Train, and elsewhere. He lives in Chicago.
Other poems by C. McAllister Williams in Verse Daily:
September 6, 2010: "Flesh" "I apologize to anyone. Ask me to buckle & I will..."
Other poems on the web by C. McAllister Williams:
Three poems
Three poems
Two poems
Three poems
"That Is Not a Horse"
About Columbia Poetry Review:

Subscription: $8
Columbia Poetry Review * English Department * Columbia College Chicago * 600 South Michigan Ave. * Chicago, IL 60605
Editors: Stevie Curt * Zachary Green * Dolly Lemke * Kyle Miner * Steve Smaczniak * Abi Stokes * Chris Williams

Other poems by Columbia Poetry Review in Verse Daily:
August 5, 2010: "The End" by Dora Malech
August 4, 2010: "attributed" by y. madrone
June 13, 2009: "Your Own Winnebago" by Sandra Simonds
June 12, 2009: "Treatment Options" by Bin Ramke
June 9, 2009: "'A line of hills'" by Donald Revell
June 11, 2008: "Solution" by Rae Armantrout
June 7, 2008: "Oh Grow Up" by Dora Malech
June 5, 2008: "Solution" by Michael Robins
June 4, 2008: "Over The Hedge" by Dorianne Laux
June 3, 2008: "Is that robin's-egg blue?, or A Poet Answers Her Critics" by Mary Ann Samyn
May 30, 2008: "Chris McCreary" by Chris McCreary
May 28, 2008: "Solution" by Michael Robins
May 4, 2007: "Insomnia" by Rynn Williams
April 30, 2007: "Sinning Skel Misclape" by Lisa Jarnot
August 25, 2006: "Black Iris" by Bruce Bond
August 24, 2006: "The Idiot's Guide to Faking Your Own Death and Moving to Mexico" by Jason Bredle
August 22, 2006: "Birds, Women and Writing" by Medbh McGuckian
August 21, 2006: "Say the Boy" by Seth Abramson
Home Web Weekly Features Archives About Verse Daily FAQs Submit to Verse Daily

Copyright © 2002-2012 Verse Daily All Rights Reserved