®

Today's poem is "The Bridge at Rest"
from Your Father on the Train of Ghost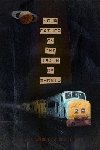 G.C. Waldrep
is author of Goldbeater's Skin (2003 Colorado Prize for poetry), Disclamor, and Archicembalo (2008 Dorset Prize). He has won awards from the Poetry Society of America and Academy of American Poets, fellowships at Yaddo and the MacDowell Colony; and an NEA fellowship. He holds an MFA in poetry from the Iowa Writers' Workshop and teaches at Bucknell University.
Other poems by G.C. Waldrep in Verse Daily:
November 5, 2009: "Still Life, with Drawing" "The drawing of a bird draws..."
September 22, 2009: "The Fear Was in the Northeast" "The fear was in the northeast...."
Books by G.C. Waldrep:

Other poems on the web by G.C. Waldrep:
"Steps to Remove Limitations"
"From Which Mortar Cities Rise"
Two poems
"Their Faces Shall Be As Flames"
"III. Palm Beach, Florida, 1987"
"Vertigo"
Two poems
"Libby Poem"
Two poems
"The Electricity of Your Acupuncture Is Breathing"
Four poems
G. C. Waldrep according to Wikipedia.
John Gallaher
is author of Gentlemen in Turbans, Ladies in Cauls, The Little Book of Guesses (Levis Poetry Prize), and Map of the Folded World. His poetry has been included in The Best American Poetry series and numerous journals and anthologies. He co-edits The Laurel Review, GreenTower Press, and the Akron Series of Contemporary Poetics. He teaches at Northwest Missouri State University.
Other poems by John Gallaher in Verse Daily:
July 6, 2009: "The House Rhapsody" "For the difficulty of dinner tables..."
May 7, 2009: "Duly Noted" "Every now and then you've simply got to empty it all out..."
January 23, 2009: "What We're up Against" "On the way home from the funeral..."
June 8, 2007: "Earth-tone Anecdote" " They are speaking in the other room..."
May 12, 2007: "When I Say World I Mean Please" " We begin somewhat after the beginning, in..."
January 4, 2007: "A Guess Is Spiritual Then, & Will Try to Help You" " Two pregnant women are walking together under the portico...."
June 10, 2006: "Anecdote of the Field" " The children are running across the field, each..."
May 26, 2005: "No Encores. No Autographs." ""When I was little, and could float..."
Books by John Gallaher:

Other poems on the web by John Gallaher:
Three poems
Four poems
Two poems
"Still Life"
"The Poem from the Poem: Ars Poetica II"
Three poems
"Bomb Went Off"
"On Your Brilliant Escape"
"A Guidebook to When Things Were Better"
"A Guidebook to The Afterlife"
John Gallaher's Blog.
John Gallaher according to Wikipedia.
John Gallaher on Twitter.
About Your Father on the Train of Ghost :
"Your Father on the Train of Ghosts may be the first email renga, but it probably won't be the last. The co-authors inhabit 'a growing region, but there are others too, regions / and examples of regions,' together with `rhubarb futures' and `this child's chalk drawing on the sidewalk / of a sea monster on a Tilt-a-Whirl.' `We are free / for a limited time,' one of them writes (we don't know who wrote what), and that augurs a peculiarly American kind of happiness."
—John Ashbery
"This book is a sharing of the energy of speech made visible, which makes every line a prodigious and vibrant accomplishment. The book is somehow always about sharing, always about the intensity of human cooperation, of a world where `the bombs stop falling, & then / all the people come out walking."
—Bin Ramke
Support Verse Daily
Sponsor Verse Daily!
Home Archives Web Weekly Features About Verse Daily FAQs Submit to Verse Daily

Copyright © 2002-2011 Verse Daily All Rights Reserved