®

Today's poem is "Pulse"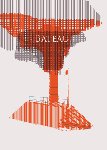 from Bateau
Stacy Kidd
is completing a PhD in English at the University of Utah. Her poems have appeared in Boston Review, Columbia, Eleven Eleven, The Iowa Review and WITNESS, among others. She is founder and editor of the new online journal intersection(s), which launches this winter and is found here: intersectionsjournal.org.
Other poems by Stacy Kidd in Verse Daily:
September 14, 2009: "13 Arkansas" "Delta: the days don't bring you quicker. No..."
July 8, 2009: "Of course, I told the women," "the river was changeless and could not be wounded..."
January 29, 2009: "The Park in Winter " "Poor little pigeon parked on a park bench..."
Other poems on the web by Stacy Kidd:
"Ax the aló to"
Three poems
Four poems
"Tenor"
Four poems
Three poems
"(Because) The Jesus Tree (Is Not a Tree, But a Switch to Hold Up the Moon)"
"Meditation on Water"
"The Women of Kingfisher"
"Gross Return"
About Bateau:

Subscription: 1 year (2 issues), $18
BATEAU * POB 2335 * AMHERST, MA 01004
Editor & Founder: James Grinwis
Other poems by Bateau in Verse Daily:
February 2, 2011: "Angel of Erosion" by Dean Young
January 31, 2011: "Axioms" by Barbara Perez
June 20, 2010: "What's There" by Dan Rosenberg
June 18, 2010: "Ice Plant" by Rae Gouirand
April 9, 2010: "The Anonymous Mermaid" and "Stapler" by Maura Stanton
June 21, 2008: "Licorice" by Daniel Hales
June 19, 2008: "Some Coin" by C.J. Sage
June 18, 2008: "from Lights Strung Lights" by Alex Lemon
June 16, 2008: "Civic" by Anthony Lacavaro
Home Web Weekly Features Archives About Verse Daily FAQs Submit to Verse Daily

Copyright © 2002-2011 Verse Daily All Rights Reserved