®

Today's poem is "The Folly of Mercutio in a Pacifist Town"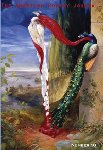 from American Poetry Journal
Phoebe Reeves
ís first chapbook, The Lobes and Petals of the Inanimate, was released by Pecan Grove Press in fall 2009 and was nominated for a Pushcart Prize. Some of the journals her poems have recently appeared in, or are forthcoming in, include The Tampa Review, DIAGRAM, Gertrude, Poet Lore, and Quarterly West.
Books by Phoebe Reeves:

Other poems on the web by Phoebe Reeves:
Two poems
"Linnaeus, Part Two"
Three poems
"Commute"
Phoebe Reeves's Website.
About American Poetry Journal:

Subscription: 1 issue, $20
The American Poetry Journal * PO Box 2080 * Aptos, CA 95001-2080
Editor: J.P. Dancing Bear

Other poems from The American Poetry Journal in Verse Daily:
April 26, 2011: "Summons" by Sandra Kohler
March 19, 2010: "Ilona's Eyelids" by Eileen GíSell
March 18, 2010: "Asphodel" by Angela Vogel
November 30, 2008: "Winter Sea" by Jacqueline Marcus
November 28, 2008: "For All Anyone Knows" by Susan Meyers
November 26, 2008: "Lucifer's Beginning Poetry Workshop" by Philip Memmer
November 25, 2008: "Black Crosses" by T. Zachary Cotler
November 24, 2008: "July" by C.J. Sage
September 27, 2007: "We Little Historians" by Nicolas A. Destino
September 26, 2007: "Spring" by Jennifer Juneau
September 25, 2007: "Pacific" by Lola Haskins
September 24, 2007: "Raft" by Dorianne Laux
March 16, 2007: "The San Simeon Zebras" by C. J. Sage
March 8, 2007: "Sevenling (Emotions scramble)" by DGB Featherkile
March 6, 2007: "Love Note to Alfred E. Neuman" by C. J. Sage
September 1, 2006: "Clockwork" by Steven D. Schroeder
August 29, 2006: "At The End Of A Long And Varied Career" by Tom C. Hunley
February 2, 2006: "Paradise in the City of Shivering Bells" by S.D. Lishan
January 31, 2006: "Cupid and the Party Dress" by Cassie Sparkman
January 29, 2006: "When I Was Gone to Summer" by Theodore Worozbyt
January 26, 2006: "The Dark Pelican" by C.J. Sage
January 23, 2006: "Holy Spirit" by Nicole Cuddeback
October 6, 2005: "How to Talk to Your Yard as If Itís Your Lover" by Mary Christine Delea
September 29, 2005: "Love Song to My Neighborhoods" Kelli Russell Agodon
September 27, 2005: "Vermont Barn" Lynne Knight
September 26, 2005: "Enter, Fall" Margot Schilpp
March 1, 2005: "Wonder Woman Dreams of the Amazon" by Jeannine Hall Gailey
February 24, 2005: "Garden of the Material" by B. L. P. Simmons
February 23, 2005: "Catch" by Jennifer Michael Hecht
Winter Sea 22, 2004: "Angel Shark" by Hailey Leithauser
Winter Sea 21, 2004: "A H O Y !" by Jason Gray
Winter Sea 19, 2004: "It is the Soul" by Hannah Stein
Home Web Weekly Features Archives About Verse Daily FAQs Submit to Verse Daily

Copyright © 2002-2011 Verse Daily All Rights Reserved