®

Today's poem is "For Soren"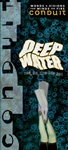 from Conduit
Noelle Kocot
is the author of five books of poetry, most recently Poem for the End of Time and Other Poems (Wave Books, 2006), Sunny Wednesday (Wave, 2009) and The Bigger World (Wave, 2011). She is also the author of a discography, Damon's Room (Wave, 2010). She has received numerous grants and awards for her work, including those from The National Endowment for the Arts, The Academy of American Poets, The American Poetry Review and The Fund for Poetry. Born and raised in Brooklyn, she now lives in New Jersey and teaches writing in New York City. The October first launch date of this issue coincides with the release of Kocotís translations of the French poet, Tristan Corbiere, entitled Poet by Default (Wave Books).
Other poems by Noelle Kocot in Verse Daily:
March 20, 2011: "Circle of Life" "Nobody loved Jim, but that..."
April 27, 2008: "The Cetacean Society" "The cetacean society was lucky..."
December 12, 2005: "Our Days Are Numbered" " You wanted to concoct a monody..."
Other poems on the web by Noelle Kocot:
Five poems
Two poems
Three poems
"Oevre"
"The Peace That So Lovingly Descends"
"I am Like a Desert Owl, an Owl Among the Ruins"
"While Writing"
"Brooklyn Sestina: June, 1975"
"Sestina for Lizzette"
Four poems
"Love Poem on the Anniversary of Nowhere"
"You Will Always Be My Animal"
Noelle Kocot According to Wikipedia.
About Conduit:

Subscription: 1 year (2 issues), $18
Conduit * 788 Osceola Avenue * Saint Paul, Minnesota 55105
Editor: William D. Waltz
Other poems by Conduit in Verse Daily:
October 18, 2010: "Penny Pincher Leaves Millions" by Mark Bibbins
October 17, 2010: "That Kind of Party" by Patrick Swaney
October 15, 2010: "Ode to Autumn" by Susan Browne
May 30, 2009: "The Terrible Poem" by Dara Wier
May 28, 2009: "The Match" by Carley Moore
May 26, 2009: "asunder" by Craig Arnold
May 25, 2009: "Moving day" by Bob Hicok
May 25, 2008: "The Party by the Lake" by Kevin Prufer
May 22, 2008: "[I Saw My Face on the Dull Head]" by Adam Clay
May 19, 2008: "Saint of Perpetual Sorrow" by James Meetze
April 27, 2008: "The Cetacean Society" by Noelle Kocot
April 26, 2008: "Kingdom Come At Once" by Travis Brown
April 25, 2008: "Baby Epic" by Tanya Larkin
Home Web Weekly Features Archives About Verse Daily FAQs Submit to Verse Daily

Copyright © 2002-2011 Verse Daily All Rights Reserved