®

Today's poem is "Till It Sticks"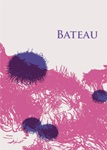 from Bateau
Michael Teig
is the author of Big Back Yard. His second book, There is a Box in the Garage You Can Beat with a Stick, is forthcoming from Boa Editions in 2014.
Other poems by Michael Teig in Verse Daily:
July 31 "Poultry Chronical" "My chicken has pointy ears..."
Books by Michael Teig:

Other poems on the web by Michael Teig:
Three poems
"The Second Act"
Michael Teig According to Wikipedia.
About Bateau:

Subscription: 1 year (2 issues), $18
BATEAU * POB 2335 * AMHERST, MA 01004
Editor & Founder: James Grinwis
Other poems by Bateau in Verse Daily:
February 3, 2011: "Pulse" by Stacy Kidd
February 2, 2011: "Angel of Erosion" by Dean Young
January 31, 2011: "Axioms" by Barbara Perez
June 20, 2010: "What's There" by Dan Rosenberg
June 18, 2010: "Ice Plant" by Rae Gouirand
April 9, 2010: "The Anonymous Mermaid" and "Stapler" by Maura Stanton
June 21, 2008: "Licorice" by Daniel Hales
June 19, 2008: "Some Coin" by C.J. Sage
June 18, 2008: "from Lights Strung Lights" by Alex Lemon
June 16, 2008: "Civic" by Anthony Lacavaro
Home Web Weekly Features Archives About Verse Daily FAQs Submit to Verse Daily

Copyright © 2002-2011 Verse Daily All Rights Reserved