®

Today's poem is "Anthem"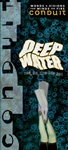 from Conduit
Michael Robins
is the author of Ladies & Gentlemen (Saturnalia Books, 2011), the chapbook Circus (Flying Guillotine Press, 2009), and The Next Settlement (UNT Press, 2007), which received the Vassar Miller Prize in Poetry. His recent work has appeared or is forthcoming in American Letters & Commentary, Antioch Review, Bateau, Colorado Review, Conduit, Jet Fuel Review, The Laurel Review, Mid-American Review, Route 9 and elsewhere. His short essays and book reviews have appeared in journals such as MAKE, Poets for Living Waters, Redactions, and in the anthology The Field Guide to Prose Poetry (Rose Metal Press, 2010).
Other poems by Michael Robins in Verse Daily:
June 5, 2008: "I Wanted More Than I Could Steal" "Instead the opening, the end, the tunnel..."
May 1, 2007: "Plunder" " The heart, which often seems a gangplank..."
December 29, 2005: "Gray Gone Missing" " & though a needle drops among the stacks..."
Books by Michael Robins:

Other poems on the web by Michael Robins:
Four poems
Two poems
"Circus"
Two poems
Five poems
Three poems
"Our Homes on the Same Street"
Michael Robins's Website.
About Conduit:

Subscription: 1 year (2 issues), $18
Conduit * 788 Osceola Avenue * Saint Paul, Minnesota 55105
Editor: William D. Waltz
Other poems by Conduit in Verse Daily:
October 18, 2011: "For Soren" by Noelle Kocot
October 18, 2010: "Penny Pincher Leaves Millions" by Mark Bibbins
October 17, 2010: "That Kind of Party" by Patrick Swaney
October 15, 2010: "Ode to Autumn" by Susan Browne
May 30, 2009: "The Terrible Poem" by Dara Wier
May 28, 2009: "The Match" by Carley Moore
May 26, 2009: "asunder" by Craig Arnold
May 25, 2009: "Moving day" by Bob Hicok
May 25, 2008: "The Party by the Lake" by Kevin Prufer
May 22, 2008: "[I Saw My Face on the Dull Head]" by Adam Clay
May 19, 2008: "Saint of Perpetual Sorrow" by James Meetze
April 27, 2008: "The Cetacean Society" by Noelle Kocot
April 26, 2008: "Kingdom Come At Once" by Travis Brown
April 25, 2008: "Baby Epic" by Tanya Larkin
Home Web Weekly Features Archives About Verse Daily FAQs Submit to Verse Daily

Copyright © 2002-2011 Verse Daily All Rights Reserved