®

Today's poem is "What the Mapmaker Knows"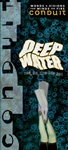 from Conduit
Mary Jo Bang
's books of poetry include Elegy (Graywolf Press, 2007), which received the 2007 National Book Critics Circle Award for Poetry and was listed as a New York Times 2008 Notable Book, and The Bride of E (Graywolf Press, 2009). She was the poetry co-editor at Boston Review from 1995-2005, and has been the recipient of the Alice Fay Castagnola Award from the Poetry Society of America, a Guggenheim Fellowship, and a Hodder Fellowship from Princeton University. She is a professor of English at Washington University in St. Louis. Her translation of Dante's Inferno, with illustrations by Henrik Drescher, will be published by Graywolf Press in July, 2012.
Other poems by Mary Jo Bang in Verse Daily:
July 31, 2009: "Still as in a Still after Still" "How-then-why is charted like a map is a chart..."
October 3, 2008: Dante's The Inferno "Canto I" (translation) "Stopped mid-motion in the middle..."
July 18, 2007: "Goodbye Is Another Word for Not" " Imagine the movie..."
July 7, 2007: "G Is for Not Just One George" " Gilbert and his brother, plus the monkey..."
June 25, 2007: "There Is No Pretending" " There is no pretending to know..."
January 1, 2007: "Where" " In this cicada city, we are dead..."
October 17, 2005: "The Cruel Wheel Turns Twice" " And tightens until language can't bear this..."
July 4, 2003: "Gretel" "Mother, I am bare in a mist-mad forest..."
Books by Mary Jo Bang:

Other poems on the web by Mary Jo Bang:
Two poems
"After the Fact"
"The Circus Watcher"
Seven poems
"I As In Justice"
"Q is the Quit"
"So, So It Begins Means It Begins"
Three poems
"Beast Brutality"
Six poems
Three poems
"Doll"
"The Eye Like a Strange Balloon Mounts Toward Infinity"
"Begin Here"
"The Beauties of Nature"
"Ham Paints a Picture to Illustrate an Early Lesson: O Trauma!"
"Mrs. Autumn and Her Two Daughters"
"In the Book of all that's Befallen"
Mary Jo Bang according to Wikipedia.
About Conduit:

Subscription: 1 year (2 issues), $18
Conduit * 788 Osceola Avenue * Saint Paul, Minnesota 55105
Editor: William D. Waltz
Other poems by Conduit in Verse Daily:
October 19, 2011: "Anthem" by Michael Robins
October 18, 2011: "For Soren" by Noelle Kocot
October 18, 2010: "Penny Pincher Leaves Millions" by Mark Bibbins
October 17, 2010: "That Kind of Party" by Patrick Swaney
October 15, 2010: "Ode to Autumn" by Susan Browne
May 30, 2009: "The Terrible Poem" by Dara Wier
May 28, 2009: "The Match" by Carley Moore
May 26, 2009: "asunder" by Craig Arnold
May 25, 2009: "Moving day" by Bob Hicok
May 25, 2008: "The Party by the Lake" by Kevin Prufer
May 22, 2008: "[I Saw My Face on the Dull Head]" by Adam Clay
May 19, 2008: "Saint of Perpetual Sorrow" by James Meetze
April 27, 2008: "The Cetacean Society" by Noelle Kocot
April 26, 2008: "Kingdom Come At Once" by Travis Brown
April 25, 2008: "Baby Epic" by Tanya Larkin
Home Web Weekly Features Archives About Verse Daily FAQs Submit to Verse Daily

Copyright © 2002-2011 Verse Daily All Rights Reserved