®

Today's poem is "North of North"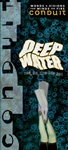 from Conduit
James Haug
ís previous collections are Walking Liberty and The Stolen Car. He is a recipient of fellowships from the National Endowment for the Arts and the Massachusetts Cultural Council. He lives in Northampton, Massachusetts.
Other poems by James Haug in Verse Daily:
June 11, 2009: "Idiot Means Good Luck" "Too bad the storm cellar could fit all of us..."
January 25, 2008: "Root Beer" "We found new combinations of interiors...."
February 20, 2006: "How It Came to Be Connecticut" " Local weather followed her everywhere...."
Books by James Haug:

Other poems on the web by James Haug:
Three poems
"Hidden Things"
Four poems
Two poems
About Conduit:

Subscription: 1 year (2 issues), $18
Conduit * 788 Osceola Avenue * Saint Paul, Minnesota 55105
Editor: William D. Waltz
Other poems by Conduit in Verse Daily:
October 22, 2011: "Oracle" by Dean Young
October 20, 2011: "What the Mapmaker Knows" by Mary Jo Bang
October 19, 2011: "Anthem" by Michael Robins
October 18, 2011: "For Soren" by Noelle Kocot
October 18, 2010: "Penny Pincher Leaves Millions" by Mark Bibbins
October 17, 2010: "That Kind of Party" by Patrick Swaney
October 15, 2010: "Ode to Autumn" by Susan Browne
May 30, 2009: "The Terrible Poem" by Dara Wier
May 28, 2009: "The Match" by Carley Moore
May 26, 2009: "asunder" by Craig Arnold
May 25, 2009: "Moving day" by Bob Hicok
May 25, 2008: "The Party by the Lake" by Kevin Prufer
May 22, 2008: "[I Saw My Face on the Dull Head]" by Adam Clay
May 19, 2008: "Saint of Perpetual Sorrow" by James Meetze
April 27, 2008: "The Cetacean Society" by Noelle Kocot
April 26, 2008: "Kingdom Come At Once" by Travis Brown
April 25, 2008: "Baby Epic" by Tanya Larkin
Home Web Weekly Features Archives About Verse Daily FAQs Submit to Verse Daily

Copyright © 2002-2011 Verse Daily All Rights Reserved