®

Today's poem is "Oracle"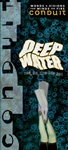 from Conduit
Dean Young
's new book, Fall Higher, will be published by Copper Canyon in April.
Other poems by Dean Young in Verse Daily:
June 23, 2011: "The Commendation" "We had no choice but to live..."
June 13, 2011: "Is This Why Love Almost Rhymes with Dumb?" "In love there's many obstacles..."
February 2, 2011: "Angel of Erosion" "Grows pale the dulcet gizmo..."
July 9, 2009: "The Fox" "Remember trying to feed the fox?..."
June 29, 2009: "The Euphoria of Peoria" "Help me please breathe..."
February 19, 2008: "Today They Will Show Me the Homunculus" "I knew it was on the other side of the door..."
December 15, 2002: My People "Initially, I too appeared between the legs..."
Books by Dean Young:

Other poems on the web by Dean Young:
Five poems
Thirty-three poems
"Ash Ode"
"Delphiniums in a Window Box"
Four poems
"Poem Without Forgiveness"
"Ode to Hangover"
Three poems
Eleven poems
Two poems
"Peach Farm"
Dean Young according to Wikipedia.
About Conduit:

Subscription: 1 year (2 issues), $18
Conduit * 788 Osceola Avenue * Saint Paul, Minnesota 55105
Editor: William D. Waltz
Other poems by Conduit in Verse Daily:
October 20, 2011: "What the Mapmaker Knows" by Mary Jo Bang
October 19, 2011: "Anthem" by Michael Robins
October 18, 2011: "For Soren" by Noelle Kocot
October 18, 2010: "Penny Pincher Leaves Millions" by Mark Bibbins
October 17, 2010: "That Kind of Party" by Patrick Swaney
October 15, 2010: "Ode to Autumn" by Susan Browne
May 30, 2009: "The Terrible Poem" by Dara Wier
May 28, 2009: "The Match" by Carley Moore
May 26, 2009: "asunder" by Craig Arnold
May 25, 2009: "Moving day" by Bob Hicok
May 25, 2008: "The Party by the Lake" by Kevin Prufer
May 22, 2008: "[I Saw My Face on the Dull Head]" by Adam Clay
May 19, 2008: "Saint of Perpetual Sorrow" by James Meetze
April 27, 2008: "The Cetacean Society" by Noelle Kocot
April 26, 2008: "Kingdom Come At Once" by Travis Brown
April 25, 2008: "Baby Epic" by Tanya Larkin
Home Web Weekly Features Archives About Verse Daily FAQs Submit to Verse Daily

Copyright © 2002-2011 Verse Daily All Rights Reserved