®

Today's poem is "School is a Sculpture Called Soft"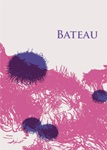 from Bateau
Daniel Coudriet
lives with his wife and son in Richmond, Virginia, and in Carcarna, Argentina. He is the author of Say Sand (Carengie Mellon University Press, 2010) and Parade (Blue Hour Press, 2011). His poems and translations of Argentinian poetry have made recent appearances in Verse, Boston Review, and elsewhere.
Other poems by Daniel Coudriet in Verse Daily:
April 26, 2010: "None of Them Would Stop" "Laughing, the sudden taxidermies..."
Books by Daniel Coudriet:

Other poems on the web by Daniel Coudriet:
"Necessary Authorities"
Three poems
About Bateau:

Subscription: 1 year (2 issues), $18
BATEAU * POB 2335 * AMHERST, MA 01004
Editor & Founder: James Grinwis
Other poems by Bateau in Verse Daily:
October 3, 2011: "As Far As I Know" by Allan Peterson
September 29, 2011: "Till It Sticks" by Michael Teig
February 3, 2011: "Pulse" by Stacy Kidd
February 2, 2011: "Angel of Erosion" by Dean Young
January 31, 2011: "Axioms" by Barbara Perez
June 20, 2010: "What's There" by Dan Rosenberg
June 18, 2010: "Ice Plant" by Rae Gouirand
April 9, 2010: "The Anonymous Mermaid" and "Stapler" by Maura Stanton
June 21, 2008: "Licorice" by Daniel Hales
June 19, 2008: "Some Coin" by C.J. Sage
June 18, 2008: "from Lights Strung Lights" by Alex Lemon
June 16, 2008: "Civic" by Anthony Lacavaro
Home Web Weekly Features Archives About Verse Daily FAQs Submit to Verse Daily

Copyright © 2002-2011 Verse Daily All Rights Reserved