®

Today's poem is "Tips of the Slung"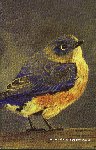 from The Journal
Amy Schrader
holds an MFA in poetry from the University of Washington. She was a recipient of a 2008 Artist Trust Grants for Artist Projects (GAP) award, and her poems have most recently appeared in Willow Springs, Bateau, Fairy Tale Review, DIAGRAM, and the Rose Alley Press anthology Many Trails to the Summit. She lives in Seattle with her husband and giant goldfish, not necessarily in that order.
Other poems on the web by Amy Schrader:
"We Dreamt of a City of Mirrors"
"Bird's Eye"
"A Proverb"
Subscription: 1 year (2 issues), $12
The Journal * Department of English * The Ohio State University * 164 West 17th Avenue * Columbus, Ohio 43210
Poetry Editor: Kathy Fagan

Other poems by The Journal in Verse Daily:
September 12, 2011: "Crowd Forming a Mob" by C.J. Sage
July 14, 2010: "Just Like Thumbelina's Blues" by Sarah Kathryn Moore
July 13, 2010: "Confluence" by Mary Biddinger
January 15, 2010: "His Other Car Was a Train" by Nance Van Winckel
July 4, 2009: "Deeply Impersonal" by Bob Hicok
June 30, 2009: "Inland Song" by Lesley Wheeler
January 29, 2009: "The Park in Winter " by Stacy Kidd
January 26, 2009: "Double Down" by Kary Wayson
January 22, 2009: "Memory is a Disease of Animals" by Marc McKee
January 21, 2009: "Getaway" by Clay Matthews
January 20, 2009: "Nest" by Katy Didden
January 13, 2008: "Area 25" by Catherine Wing
June 22, 2007: "Prophecy: Snow White" by Donna Prinzmetal
June 18, 2007: "Area 25" by Steven Cramer
January 9, 2007: "Area 25" by Betsy Wheeler
January 5, 2007: "Temptation to Believe" by Andrea Cohen
January 4, 2007: "A Guess Is Spiritual Then, & Will Try to Help You" by John Gallaher
January 2, 2007: "Easter, Looking Westward" by Kimberly Johnson
March 17, 2004: "What's Shorting Out the Good Show" by Martha W. Ostheimer
March 15, 2004: "Red and Black Days" by Robin Behn
Home Web Weekly Features Archives About Verse Daily FAQs Submit to Verse Daily

Copyright © 2002-2011 Verse Daily All Rights Reserved