®

Today's poem is "Penny Pincher Leaves Millions"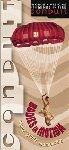 from Conduit
Mark Bibbins
is the author of Sky Lounge, which received a Lambda Literary Award. He teaches in the graduate writing programs at Columbia University and The New School, where he co-founded LIT magazine. His poems have appeared in Poetry, The Paris Review, Boston Review, Tin House, The Best American Poetry, and Legitimate Dangers: American Poets of the New Century. He was a 2005 New York Foundation for the Arts poetry fellow.
Other poems by Mark Bibbins in Verse Daily:
October 28, 2009: "Sweetlips and Spangled Emperors" "We lost the change that looking..."
March 26, 2006: "Wherewithout" " I'm sunk within..."
Books by Mark Bibbins:

Other poems on the web by Mark Bibbins:
"Arriving In Your New Country"
"I Used to Have the Shampoo"
"Give Us the Dark That Keeps the Darkness Out"
"We are not kissing and the river"
"Suicides of the í90s"
Three poems
"The French Donít Have a Word for Weekend"
"Knowing You Could Is Better Than Knowing You Will"
Three poems
"Just Yesterday"
"Concerning the Land to the South of Our Neighbors to the North"
"A Small Gesture of Gratitude"
"The Whore of Binghamton"
"Redshift"
Mark Bibbins's Web site.
About Conduit:

Subscription: 1 year (2 issues), $18
Conduit * 510 8th Avenue Northeast * Minneapolis, Minnesota 55413
Editor: William D. Waltz
Other poems by Conduit in Verse Daily:
October 17, 2010: "That Kind of Party" by Patrick Swaney
October 16, 2010: "I'll Say It Again" by Amanda Nadelberg
May 30, 2009: "The Terrible Poem" by Dara Wier
May 28, 2009: "The Match" by Carley Moore
May 26, 2009: "asunder" by Craig Arnold
May 25, 2009: "Moving day" by Bob Hicok
May 25, 2008: "The Party by the Lake" by Kevin Prufer
May 22, 2008: "[I Saw My Face on the Dull Head]" by Adam Clay
May 19, 2008: "Saint of Perpetual Sorrow" by James Meetze
April 27, 2008: "The Cetacean Society" by Noelle Kocot
April 26, 2008: "Kingdom Come At Once" by Travis Brown
April 25, 2008: "Baby Epic" by Tanya Larkin
Home Web Weekly Features Archives About Verse Daily FAQs Submit to Verse Daily

Copyright © 2002-2010 Verse Daily All Rights Reserved