®

Today's poem is "No Wasn't Full"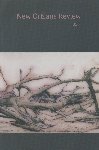 from New Orleans Review
C. J. Sage
'S poems appear in The Antioch Review, Black Warrior Review, Boston Review, Ploughshares, Shenandoah, and The Threepenny Review. Her next book, The San Simeon Zebras, will be out from Salmon Poetry in 2010. She resides in Rio Del Mar, California, where she edits The National Poetry Review and The National Poetry Review Press and works as a Realtor.
Other poems by C.J. Sage in Verse Daily:
November 24, 2008: "July" "I was wondering dollars half-hearted..."
October 2, 2008: "Goat" "Hoofed culler of things ignored..."
June 19, 2008: "Some Coin" "Inside, she was hendecagonic...."
March 31, 2008: "Ostriches" "When my father held his head from the sand for a time..."
March 16, 2007: "The San Simeon Zebras" by C. J. Sage
January 26, 2006: "The Dark Pelican" " Her nest is crude (though on the shore it rests..."
November 2, 2005: "Choir" by C.J. Sage
September 8, 2004: "Managing Myth" "From time to time the red-winged blackbirds tumble..."
December 31, 2003: "Litany for Treetops" "The way the wind breaks across a giraffe's neck..."
September 17, 2002: "Birth Ghazal" and "Bridge Ghazal" "I want to say before I die: my heart is clear; my hands, reborn...."
August 27, 2002: "Sonnet For Carryhouse and Keeper" "I met a man who'd kept a snail as pet...."
Books by C.J. Sage:

Other poems on the web by C.J. Sage:
"Sea Canaries"
"Landscapes with Elephant Seals and Umbrellas"
3 poems
"Needle"
Two poems
"Peripetia, or Flowers for Everyone"
"Memorandum on Human Being"
"The Terza Rima of Bird and Fish"
"Safari, Safari"
Two poems
Two poems
C. J. Sage's Website.
About New Orleans Review:

Subscription: $14
New Orleans Review * Box 195 * Loyola University * New Orleans, LA 70118
Poetry Editor: Katie Ford

Other poems from New Orleans Review in Verse Daily:

July 25, 2009: "Love After Lovely Leaves" by Andrew McCarron
July 24, 2009: "Then From Our Green Branch" by Oni Buchanan
October 14, 2008: "Nothing to It" by Chris Forhan
May 5, 2008: "Obey Gravity" by Cynthia Arrieu-King & Ariana-Sophia Kartsonis
May 1, 2008: "In Support of Corporate Farms" by Cody Lumpkin
April 28, 2008: "Preemptive Elegy" by Paul Guest
January 3, 2008: "'King,' 'Queen,' etc." by Alison Powell
January 1, 2008: "This Morning After Snow, the Body Scrapes Off" by K. A. Hays
June 1, 2007: "Owl" by Endi Hartigan
May 31, 2007: "Than longen folk to goon on pilgrimages" by Kimberly Johnson
November 20, 2006: "Recapitulation" by Deborah Tall
November 13, 2006: "Upshot" by Deborah Tall
May 20, 2006: "the caveat onus ::: twenty-three" by Dave Brinks
August 27, 2005: "I Lived in the Forest" by Emmy Hunter
August 25, 2005: "from Crossed, Cross, Crossing" Esther Lee
August 23, 2005: "Paradise" James Capozzi
February 27, 2005: "After The Accident" by Molly Brodak
February 22, 2005: "Anonymous Fox" by Naomi Feigelson Chase
February 21, 2005: "Antihelion: Conception of the Yellow House" by Robin Behn
August 19, 2004: "Gacela of Animal Wisdom" by J. P. Dancing Bear
August 18, 2004: "Even So" by Susanne Kort
August 17, 2004: "His Dossier from Babel" by Andrew Miller
August 14, 2004: "Daedalus" by Hailey Leithauser
January 18, 2004: "The Idea of Nothing" by Sue Owen
January 14, 2004: "Muster" by Ander Monson
Support Verse Daily
Sponsor Verse Daily!
Home Archives Web Monthly Features About Verse Daily FAQs Submit to Verse Daily Publications Noted & Received
Copyright © 2002-2010 Verse Daily All Rights Reserved