®

Today's poem is "Black Crosses"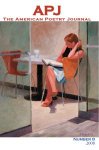 from The American Poetry Journal
T. Zachary Cotler
's poems have recently appeared in Barrow Street, Southern Review, FIELD, Denver Quarterly, and are forthcoming in Conjunctions, New Review of Literature, and Paris Review. He was the 2006 Amy Clampitt Fellow.
Other poems on the web by T. Zachary Cotler:
Three poems
"Calls"
"Gigot"
"'Cities, stars / on maps that adorn…'"
About The American Poetry Journal:
Poets in this issue: Bruce Cohen, Rebecca Aronson, Marilyn Annucci, Kathleen Lynch, Rob Carney, Mil Norman-Risch, Belinda Subraman, Jennifer Sullivan, Jeannine Hall Gailey, Tom Holmes, Nicole Walker, Lisa Markowitz, Jason Bredle, Brent Calderwood, Philip Memmer, Elisabeth Murawski, Judy Kronenfeld, Keith Montesano, Kyle McCord, Ronda Broatch, Judith Skillman, James Doyle, Doug Sutton-Ramspeck, Daniel Bowman Jr., Caki Wilkinson, Nancy Burke, Olivia Clare, Jacqueline Marcus, Adam Vines, Alba Cruz-Hacker, Sarah J. Sloat, Michael Ogletree, Hannah Craig, Mitchell Metz, T. Zachary Cotler, Cindy Beebe, Mary Moore, Karen An-hwei Lee, Lesley Jenike, Susan Meyers, John Minczeski, Andrew Demcak, Nick Courtright, C.J. Sage, Steven D. Schroeder
About The American Poetry Journal:

Subscription: 1 year, $12
The American Poetry Journal * PO Box 2080 * Aptos, CA 95001-2080
Editor: J.P. Dancing Bear

Other poems from The American Poetry Journal in Verse Daily:
November 24, 2008: "July" by C.J. Sage
September 27, 2007: "We Little Historians" by Nicolas A. Destino
September 26, 2007: "Spring" by Jennifer Juneau
September 25, 2007: "Pacific" by Lola Haskins
September 24, 2007: "Raft" by Dorianne Laux
March 16, 2007: "The San Simeon Zebras" by C. J. Sage
March 8, 2007: "Sevenling (Emotions scramble)" by DGB Featherkile
March 6, 2007: "Love Note to Alfred E. Neuman" by C. J. Sage
September 1, 2006: "Clockwork" by Steven D. Schroeder
August 29, 2006: "At The End Of A Long And Varied Career" by Tom C. Hunley
February 2, 2006: "Paradise in the City of Shivering Bells" by S.D. Lishan
January 31, 2006: "Cupid and the Party Dress" by Cassie Sparkman
January 29, 2006: "When I Was Gone to Summer" by Theodore Worozbyt
January 26, 2006: "The Dark Pelican" by C.J. Sage
January 23, 2006: "Holy Spirit" by Nicole Cuddeback
October 6, 2005: "How to Talk to Your Yard as If It's Your Lover" by Mary Christine Delea
September 29, 2005: "Love Song to My Neighborhoods" Kelli Russell Agodon
September 27, 2005: "Vermont Barn" Lynne Knight
September 26, 2005: "Enter, Fall" Margot Schilpp
March 1, 2005: "Wonder Woman Dreams of the Amazon" by Jeannine Hall Gailey
February 24, 2005: "Garden of the Material" by B. L. P. Simmons
February 23, 2005: "Catch" by Jennifer Michael Hecht
Black Crosses 22, 2004: "Angel Shark" by Hailey Leithauser
Black Crosses 21, 2004: "A H O Y !" by Jason Gray
Black Crosses 19, 2004: "It is the Soul" by Hannah Stein
Support Verse Daily
Sponsor Verse Daily!
Home Archives Web Monthly Features About Verse Daily FAQs Submit to Verse Daily Publications Noted & Received
Copyright © 2002-2008 Verse Daily All Rights Reserved