®

Today's poem is "The Object of the Object"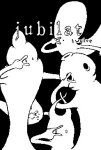 from jubilat
Nance Van Winckel
's fourth collection of poetry is Beside Ourselves (Miami University Press). Recent poems appear in APR, Ploughshares, Poetry, New Letters, and The Massachusetts Review. She has also published three books of short fiction, most recently Curtain Creek Farm.
Other poems by Nance Van Winckel in Verse Daily:

November 6, 2006: "The Forgiveness Channel" " Is your shadow bird over..."
December 20, 2005: "And the Wound Says" " Step into the river and let the ripples cool us...."
June 24, 2005: "When the River Comes Toward Me" "it comes with whatever it's..."
January 12, 2005: "Awaiting the Return Ferry" "Ghostly, echoes of old guffaws from a crowd..."
July 13, 2004: "Simone Weil at the Renault Factory (1935)" "A thread in a line of threads, she stands..."
January 9, 2004: "Let me Remind You You Are Still Under Oath" "Out of marsh out of the bronchial..."
February 3, 2003: "Passing Through the Shadows Of Great Buildings" "The beggar in plaid blankets wanted to kiss my hand..."
January 15, 2003: "Cautionary Tale" "The funny bearded goat..."
January 6, 2003: "Bid Me Be the Bird" "May the lower, liquid half of the world..."
About jubilat:
Poets in this issue: Monica Fambrough, Cecily Iddings, Allison Titus, Kazim Ali, Claudia Rankine, Kirsten Kaschock, Rae Gouirand, Nance Van Winckel, Karen Volkman, Caroline Knox, Jeffrey Lependorf, Erica Kaufman, Alessandra Lynch, Anna Moschovakis, Gabriella Klein, Doug McNamara, William May, Elizabeth Treadwell, David B. Goldstein, Sarah Manguso, Shafer Hall & Jennifer L. Knox, Laurie Palmer, Marc Gaba, PrimeDanielle Pafunda, Nelly Reifler, Kaethe Schwehn, Lesley Yalen, Amy McNamara, Ronald Johnson, Jack Christian, Ed Pavlic, Tomas Salamun, Ramon Llull, Thomas Devaney, John Ashbery
Subscription: 1 year (2 issues), $14
jubilat * Bartlett 482 * Dept. of English * University of Massachusetts * Amherst, MA 01003-0515
Editor: Christian Hawkey & Michael Teig


December 26, 2006: "I Am So Great" by Cecily Iddings
March 26, 2006: "Wherewithout" by Mark Bibbins
March 25, 2006: "Please Take Back the Sparrows" by Suzanne Buffam
September 17, 2005: "The Recollection of Some Object Formed From It" by Jen Tynes
September 13, 2005: "Tonight's The Night" Catherine Meng
January 30, 2005: "Dear Birds" by Mark Yakich
August 1, 2004: "Eclogue IV" by Andrea Zanzotto, translated by Wayne Chambliss
November 10, 2003: "Poem" by James Shea
November 8, 2003: "Catullus #2" by Gaius Valerius Catullus, translated by Rick Snyder
November 7, 2003: "Fetus in Orbit" by L. S. Klatt
November 5, 2003: "[ Worry-Worn: God ]" by Marina Tsvetaeva, translated by Christina Davis
February 16, 2003: "White Anklets" by Shauna Hannibal
February 14, 2003: "Each Thing Charged" by Ben Doyle
July 19, 2002: "Late Gallop" by Eugen Jebeleanu
July 3, 2002: "Not Here" by Richard Jackson
Support Verse Daily
Sponsor Verse Daily!
Home Archives Web Monthly Features About Verse Daily FAQs Submit to Verse Daily Publications Noted & Received
Copyright © 2002, 2003, 2004, 2005, 2006 Verse Daily All Rights Reserved