®

Today's poem is "The Song of the Practical"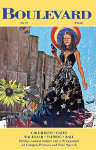 from Boulevard
Albert Goldbarth
has been publishing poetry of note for over forty years, two of which have received National Book Critics Circle Awards. His most recent books are a collection of poetry, Selfish, and a book of essays called The Adventures of Forma and Content; both were published by Greywolf Press. He lives in Witchita, Kansas.
Other poems by Albert Goldbarth in Verse Daily:
January 6, 2016: "Flowers" "Ah, the soul . . . that taxi driver...."
February 17, 2015: "Secondary" "En route to the Earth-that's..."
September 29, 2008: "An Explanation" "I wanted to say..."
September 5, 2005: "Off in the darkness hourses moved restlessly" "We believed they were horses; and so..."
January 10, 2005: "How Else Today" "That justly famous scene where all the monster..."
Books by "Albert Goldbarth" :

Other poems on the web by Albert Goldbarth:
Twelve poems
Seven poems
"Everyday People"
One Hundred-two poems
Albert Goldbarth According to Wikipedia.
Subscription: 1 yr (3 issues) $15
Boulevard * 6614 Clayton Rd * Box 325 * Richmond Heights, MO 63117
Senior Editors: Edmund de Chasca * Eric Miles Williamson
Other poems by Boulevard in Verse Daily:
January 31, 2018: "The Song of the Practical" by Albert Goldbarth
May 11, 2017: "Pennies from Heaven" by John Blair
July 22, 2016: "Ghost Encounter" by Annah Browning
December 13, 2015: "Room Key" by David Lehman
December 11, 2015: "It Does Kind of Burn. Goodbye." by Henry Crawford
December 10, 2015: "The Night and the Cold" by Charles Simic
November 5, 2014: "At Last" by Gerald Stern
November 3, 2014: At Last by Edward Nobles
January 16, 2013: "Report from the Provinces" by Wayne Miller
Home
Archives Web Weekly Features About Verse Daily FAQs Submit to Verse Daily

Copyright © 2002-2018 Verse Daily All Rights Reserved