®

Today's poem is "The Gunny Wolf"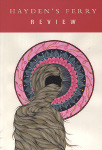 from Hayden's Ferry Review
Megan Snyder-Camp
is the author of The Forest of Sure Things (2010) and Wintering (forthcoming in summer 2016), both with Tupelo Press . The poems in this issue are part of her forthcoming third collection, The Gunnywolf, which will be out on Bear Star Press in Sept 2016. She lives in Seattle.
Other poems by Megan Snyder-Camp in Verse Daily:
November 25, 2010: "The House on Laurel Hill Lane" by "Between the neighbor's cherry trees..."
February 4, 2005: "Church" by "Our church was all brick, no name on it..."
Books by Megan Snyder-Camp:

Other poems on the web by Megan Snyder-Camp:
Eigth poems
Megan Snyder-Camp's Website.
About Hayden's Ferry Review:

Subscription: 1yr (6 issues) $15
Hayden's Ferry Review * Magazine Address * Magazine Address *
Poetry Editor: Editor_Name

Other poems from Hayden's Ferry Review in Verse Daily:
October 9, 2013: "The Pond" by Caitlin Bailey "Small places burst with love for you. My hand is an oar...."
October 4, 2013: "[For the sake of this mathematical hypothetical]" by Kyle McCord
October 3, 2013: "Blues" by Alice Bolin
October 2, 2013: "Do Not Drive Into Smoke (The Behavioralistic Half-Century)" by Katy Chrisler
October 1, 2013: "How We Prepared for War" by Caitlin Bailey
April 9, 2013: "Dear So & So" by Beth Marzoni
April 8, 2013: "The Book of Revelation" by Sam Taylor
April 5, 2013: "Valediction Lessons: Flora" by Corey Van Landingham
August 31, 2012: "Walking Again" by Mark Jarman
February 7, 2012: "Elegy" by Heather June Gibbons
February 6, 2012: "To The Executioner" by Malachi Black
July 7, 2011: "Barefoot on the Pulpit" by Lisa Fay Coutley
July 6, 2011: "To Bear" by Mary Quade
Home
Archives Web Weekly Features About Verse Daily FAQs Submit to Verse Daily

Copyright © 2002-2017 Verse Daily All Rights Reserved