®

Today's poem is "The Last Love Poem"
from Field Guide to the End of the World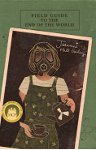 Jeannine Hall Gailey
served as second poet laureate of Redmond, Washington. She's the author of four previous books of poetry: Becoming the Villainess, She Returns to the Floating World, Unexplained Fevers, and The Robot Scientist's Daughter.
Other poems by Jeannine Hall Gailey in Verse Daily:
June 10, 2015: "Advice from the Robot Scientist's Daughter" "After all, the moon has fallen asleep and you are alone...."
December 12, 2013: "She Had Unexplained Fevers" "some nights she just wasn?t..."
July 16, 2011: "Advice Given to Me Before My Wedding" "Better to be the lover than the beloved, you'll have passion...."
July 13, 2007: "The Husband Tries to Write to the Disappearing Wife" " I could have kept you..."
April 30, 2006: "When Red Becomes the Wolf" " In my dream you brought me fired bologna sandwiches...."
April 5, 2006: "Femme Fatale" " Even our names sound delicious..."
March 1, 2005: "Wonder Woman Dreams of the Amazon" "I miss the tropes of Paradise—green vines..."
Books by Jeannine Hall Gailey:

Other poems on the web by Jeannine Hall Gailey:
Five poems
Three poems
"In Which I Declare My Resistance"
Four poems
"At the End of Time (Wish You Were Here)"
"April in Middle Age"
"Cesium Burns Blue"
"Elemental"
"Elemental"
Four poems
"The Robot Scientist?s Daughter [apocalypse]"
"Appalachian Childhoods Look Much More Picturesque"
Five poems
Six poems
Four poems
Two poems
"Female Comic Book Superheroes"
Two poems
"Allerleirauh Reveals Her True Self to the Prince"
"To a Self-Proclaimed Manic Depressive Ex-Stripper Poet, After a Reading"
"Sleeping Beauty Loves the Needle"
"The Snow Queen"
"The Robot Scientist's Daughter [Before]"
"I Forgot to Tell You the Most Important Part. . ."
Jeannine Hall Gailey's Home Page.
Jeannine Hall Gailey according to Wikipedia.
Jeannine Hall Gailey on Twitter.
About Field Guide to the End of the World:
"In Field Guide to the End of the World, Jeannine Hall Gailey allies herself with the mutants of the world—from zombie stripper clones to teen girl vampires—but unlike them, she is haunted by the possibility of the world and the self coming to an end. Wry, heartsick and shot through with black humor (Martha Stewart's 'Guide to Apocalypse Living' dispenses advice on 'storing munitions in attractive wicker boxes'), these poems about transformation and extinction mournfully remind us via post-apocalypse postcards, notes and instructions, 'we were not here first, we will not be here last.'"
—Matthea Harvey
Support Verse Daily
Sponsor Verse Daily!
Home
Archives Web Weekly Features About Verse Daily FAQs Submit to Verse Daily

Copyright © 2002-2017 Verse Daily All Rights Reserved