®

Today's poem is "Religious Experience"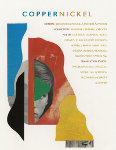 from Copper Nickel
Christopher Howell
is the author of eleven collections of poems, including
Gaze (Milkweed Editions, 2012) and Dreamless and Possible: Poems New & Selected (Univ
of Washington Press, 2010). He teaches at Eastern Washington University and in the
low-residency MFA program at Eastern Oregon University.
Other poems by Christopher Howell in Verse Daily:
January 20, 2012: "Listen" "Is it an empty house, the body alone..."
June 7, 2009: "Dancers" "The bee drifts from the lily and the lily fronds..."
Books by Christopher Howell:

Other poems on the web by Christopher Howell:
Three poems
"Keats"
Two poems
"Hammer"
"Dinner Out"
About Copper Nickel:

Subscription: 1 year (2 issues), $20
Copper Nickel * Campus Box 175 * P O Box 173364 * Denver CO 80217-3364
Poetry Editor: Brian Barker * Nicky Beer
Other poems by Copper Nickel in Verse Daily:
January 31, 2017: "Religious Experience" by Landon Godfrey
January 30, 2017: "The History of Running" by Elizabeth Langemak
March 2, 2016: "Easter Island" by Pamela Alexander
March 1, 2016: "Easterhouse (Wyoming)" by G. C. Waldrep
February 29, 2016: "Matryoshka (as Madness)" by Alexandra Teague
December 24, 2015: "Circle" by Bruce Bond
December 23, 2015: "Algebra of the Sky" by David Hernandez
December 22, 2015: "In Its Body" by Karina Borowicz
December 21, 2015: "Economica" by Tony Hoagland
August 13 2015: "I Went to the Market" by Michael Bazzett
July 29 2015: "Animal Space" by Sarah Rose Nordgren
July 28 2015: "koalas" by Jan Wagner (tr. David Keplinger)
July 27 2015: "I Also Do Impressions" by D.A. Powell
January 31, 2013: "Audubon Ate His Birds" by Kristin Robertson
January 28, 2013: "As Vivien As Blanche" by Mark Anthony Cayanan
January 26, 2013: "Landscape After Years With Yourself, West Texas" by Shamala Gallagher
March 24, 2012: "Lungful" by Brian D. Morrison
March 22, 2012: "The Decorator Crab," by Sarah Giragosian
March 21, 2012: "The Man in the Moon Retires to a Small House in a Valley" by Rick Bursky
December 2, 2011: "A Report" by Steve Langan
March 14, 2011: "Sometimes a woman sets off alarms" by Anna Journey
November 29, 2010: "Thirst" by Jennie Wrisley
November 26, 2010: "Lobster" by Matthew Minicucci
February 28, 2010: "A Whipsaw Takes Two Men" by Patricia Lockwood
February 25, 2010: "Blót" by A. E. Watkins
February 20, 2010: "Contrast" by Jericho Brown
February 16, 2010: "No Narrative" by A. E. Watkins
November 11, 2009: "Wedding Piñata" by James Hoch
November 10, 2009: "Stray Paragraphs, February, Year of the Rat" by John Estes
November 8, 2009: "Evasion of Privacy" by Jordan Davis
November 6, 2009: "The Interior Weather of Tree-Clinging Birds" by Sandy Longhorn
Home
Archives Web Weekly Features About Verse Daily FAQs Submit to Verse Daily

Copyright © 2002-2017 Verse Daily All Rights Reserved