®

Today's poem is "Our Refrigerator to Søren Kierkegaard, Chef De Garde Manger"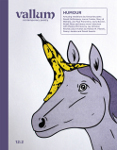 from Vallum
Scott Draper
is a butcher. He studied Ancient Greek and Latin li terature in London before training as a cook in Toronto, where he now counts syllables and ribs. His literary work has appeared in various magazines including The Malahat Review, The Antigonish Review, Arc, Prairie Fire and Lemon Hound.
Other poems on the web by Scott Draper:
"Eighty-Sixed"
Scott Draper on Twitter.
About Vallum:

Subscription: 1 year (2 issues), $17 p.a. for Canada and $21 p.a. for U.S.
Vallum: contemporary poetry * PO Box 598, Victoria Stn * Montreal, Quebec H3Z 2Y6 * Canada
Editors: Joshua Auerbach * Eleni Zisimatos Auerbach

Other poems from Vallum in Verse Daily:
January 8 2016: "The Confessions of Eulene" by Carolyne Wright
February 13, 2010: "Musing the Obscure" by Charles Simic
February 10, 2010: "A Mid-Wife's Late Sabbatical" by Peter Richardson
September 19, 2009: "Ladder to the Moon" by X. J. Kennedy
September 16, 2009: "Horizons" by Judy Little
June 24, 2007: "Betrayals" by Kevin Higgins
June 23, 2007: "Re-Cognition" by Daniel Newman
February 13, 2005: "Ironwork" by Stephanie Bolster
February 12, 2005: "Afterworld" by Sophie Cabot Black
February 11, 2005: "Cruelties" by Stephen Dunn
Home Web Weekly Features Archives About Verse Daily FAQs Submit to Verse Daily

Copyright © 2002-2016 Verse Daily All Rights Reserved