®

Today's poem is "Aviary"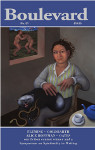 from Boulevard
Miriam Kotzin
's most recent collection of poetry is The Body's Bride (David Robert Books, 2013), which joins Taking Stock (Star Cloud, 2011), Weights & Measures (Star Cloud Press, 2009), Reclaiming the Dead, and a collection of flash fiction, Just Desserts (Star Cloud Press, 2010). Her debut novel, The Real Deal, was published by BrickHouse Books in 2012.
Other poems by Miriam Kotzin in Verse Daily:
September 14, 2015: "Gatekeeper" "There's something to be said for banality..."
August 5, 2014: "Animal Deaths" "Oh, it's stupid, I know, to be..."
September 3, 2012: "First Winter in America" "First Winter in America..."
Books by Miriam Kotzin:

Other poems on the web by Miriam Kotzin:
Four poems
Three poems
"The Wise Scimitar"
Three poems
Five poems
Two poems
Two poems
Five poems
Miriam Kotzin's Website.
Miriam Kotzinaccording to Wikipedia.
About Boulevard:

Subscription: 1 yr (3 issues) $15
Boulevard * 6614 Clayton Rd * Box 325 * Richmond Heights, MO 63117
Senior Editors: Edmund de Chasca * Eric Miles Williamson
Other poems by Boulevard in Verse Daily:
January 4, 2016: "Harbingers" by Gregory Djanikian
December 13, 2015: "Room Key" by David Lehman
December 12, 2015: "Plane Full of Soldiers" by Richard Newman
December 11, 2015: "It Does Kind of Burn. Goodbye." by Henry Crawford
December 10, 2015: "The Night and the Cold" by Charles Simic
November 5, 2014: "At Last" by Gerald Stern
November 3, 2014: At Last by Edward Nobles
January 16, 2013: "Report from the Provinces" by Wayne Miller
Home Web Weekly Features Archives About Verse Daily FAQs Submit to Verse Daily

Copyright © 2002-2016 Verse Daily All Rights Reserved