®

Today's poem is "Folio"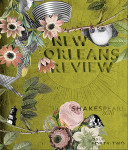 from New Orleans Review
Kimberly Johnson
is a poet, translator, and Renaissance scholar. Her collections of poeetry include, most recently, Uncommon Prayer, and her work has appeared in the New Yorker, Slate, and Ploughshares. Recipient of fellowships and awards from the Guggenheim Foundation and the NEA, she lives in Utah.
Other poems by Kimberly Johnson in Verse Daily:
November 6, 2014: "Matins for the Last Frost" "Patient in their dark hibernacle..."
October 28, 2014: "Farthingale" "In my pennyworth of windblown..."
April 2, 2013: "Blanks" "The sun rolls up like jackpot..."
December 9, 2009: "Pitbull" "what can you suppose I want from you?..."
September 18, 2008: "Love Song" "Stay, adder, startled from the spikenard..."
July 23, 2008: "Jubilee" "No seduction in the hothouse, its aisles..."
May 31, 2007: "Than longen folk to goon on pilgrimages" " Prayed loud all night and so humbled over..."
January 11, 2007: "On Divination by Birds" " Try a small black radio from any year..."
January 2, 2007: "Easter, Looking Westward" " The stars! the stars have fled the sky!..."
July 9, 2003: "Sonnet" "No seduction in the hothouse, its aisles..."
Books by Kimberly Johnson:

Other poems on the web by Kimberly Johnson:
Two poems
Two poems
"Catapult"
"A Nocturnal Upon Saint Charles Yeager?s Day"
"Marking the Lambs"
"Voluptuary"
"Sonnet"
Kimberly Johnson's Web site.
Kimberly Johnson according to Wikipedia.
About New Orleans Review:

Subscription: $14
New Orleans Review * Box 195 * Loyola University * New Orleans, LA 70118
Poetry Editor: Sophia Stone

Other poems from New Orleans Review in Verse Daily:

April 14, 2014: "America Mix-Tape, Track 60" by Jason Myers
June 2, 2012: "The Bats" by Martha Zweig
May 30, 2012: "Coming To" by Daniel Gutstein
November 18, 2011: "Women's College" by Kenneth Hart
August 23 "Dog Days" by Matthew Guenette
August 21 "Enlistment" by Joshua Edwards
March 8, 2011: "Ascent" by Mary Austin Speaker
September 7, 2010: "City You Won't Come Back To" by Anne Shaw
September 6, 2010: "Flesh" by C. McAllister Williams
April 13, 2010: "Complaint" by Mary Leader
April 10, 2010: "Slow Dance Music" by Tom C. Hunley
April 8, 2010: "No Wasn't Full" by C. J. Sage
July 25, 2009: "Love After Lovely Leaves" by Andrew McCarron
July 24, 2009: "Then From Our Green Branch" by Oni Buchanan
October 14, 2008: "Nothing to It" by Chris Forhan
May 5, 2008: "Obey Gravity" by Cynthia Arrieu-King & Ariana-Sophia Kartsonis
May 1, 2008: "In Support of Corporate Farms" by Cody Lumpkin
April 28, 2008: "Preemptive Elegy" by Paul Guest
January 3, 2008: "'King,' 'Queen,' etc." by Alison Powell
January 1, 2008: "This Morning After Snow, the Body Scrapes Off" by K. A. Hays
June 1, 2007: "Owl" by Endi Hartigan
May 31, 2007: "Than longen folk to goon on pilgrimages" by Kimberly Johnson
November 20, 2006: "Recapitulation" by Deborah Tall
November 13, 2006: "Upshot" by Deborah Tall
May 20, 2006: "the caveat onus ::: twenty-three" by Dave Brinks
August 27, 2005: "I Lived in the Forest" by Emmy Hunter
August 25, 2005: "from Crossed, Cross, Crossing" Esther Lee
August 23, 2005: "Paradise" James Capozzi
February 27, 2005: "After The Accident" by Molly Brodak
February 22, 2005: "Anonymous Fox" by Naomi Feigelson Chase
February 21, 2005: "Antihelion: Conception of the Yellow House" by Robin Behn
August 19, 2004: "Gacela of Animal Wisdom" by J. P. Dancing Bear
August 18, 2004: "Even So" by Susanne Kort
August 17, 2004: "His Dossier from Babel" by Andrew Miller
August 14, 2004: "Daedalus" by Hailey Leithauser
January 18, 2004: "The Idea of Nothing" by Sue Owen
January 14, 2004: "Muster" by Ander Monson
Home Web Weekly Features Archives About Verse Daily FAQs Submit to Verse Daily

Copyright © 2002-2016 Verse Daily All Rights Reserved