®

Today's poem is "A Box of Records"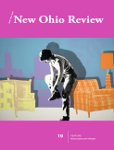 from New Ohio Review
James Haug
's books and chapbooks include Legend of the Recent Past, Why I Like Chapbooks, and Scratch. Cuba Hill Diary, a little book using drawings from 1930s-era comics, has just been issued by Scram Press. New work appears in Conduit, jubilat, Fell Swoop, and FIELD.
Other poems by James Haug in Verse Daily:
September 25, 2012: "Geologic Time" "And sometimes I'm just going..."
October 24, 2011: "North of North" "When I passed on the road a stranger..."
June 11, 2009: "Idiot Means Good Luck" "Too bad the storm cellar could fit all of us..."
January 25, 2008: "Root Beer" "We found new combinations of interiors...."
February 20, 2006: "How It Came to Be Connecticut" " Local weather followed her everywhere...."
Books by James Haug:

Other poems on the web by James Haug:
"Eightball"
Three poems
"Hidden Things"
Four poems
Two poems
About New Ohio Review:

Subscription: 1 year (2 issues), $16
New Ohio Review * English Dept. * 360 Ellis Hall * Ohio University * Athens, OH 45701
Editor: David Wanczyk
Other poems by New Ohio Review in Verse Daily:
June 8, 2016: "The First Time We Went Camping" by Fay Dillof
September 17, 2015: "Harping" by Judy Rowe Michaels
September 14 2015: "Gatekeeper" by Gregory Djanikian
November 19, 2011: "Downloading the Meltdown" by Elton Glaser
November 18, 2011: "Women's College" by Kenneth Hart
March 29, 2011: "How it Happened" by Chelsea Rathburn
April 22, 2009: "Y at the End of It" by Nancy Eimers
Home Web Weekly Features Archives About Verse Daily FAQs Submit to Verse Daily

Copyright © 2002-2016 Verse Daily All Rights Reserved