®

Today's poem is "Flowers"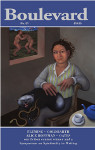 from Boulevard
Albert Goldbarth
's most recent volume, Selfish (Graywolf, 2015), includes many poems from previous issues of Boulevard. He is a two-time winner of the National Book Critics Circle Award.
Other poems by Albert Goldbarth in Verse Daily:
February 17, 2015: "Secondary" "En route to the Earth-that's..."
September 29, 2008: "An Explanation" "I wanted to say..."
September 5, 2005: "Off in the darkness hourses moved restlessly" "We believed they were horses; and so..."
January 10, 2005: "How Else Today" "That justly famous scene where all the monster..."
Books by "Albert Goldbarth" :

Other poems on the web by Albert Goldbarth:
Seven poems
"Everyday People"
One Hundred-two poems
Albert Goldbarth According to Wikipedia.
About Boulevard:

Subscription: 1 yr (3 issues) $15
Boulevard * 6614 Clayton Rd * Box 325 * Richmond Heights, MO 63117
Senior Editors: Edmund de Chasca * Eric Miles Williamson
Other poems by Boulevard in Verse Daily:
January 4, 2016: "Harbingers" by Gregory Djanikian
December 13, 2015: "Room Key" by David Lehman
December 12, 2015: "Plane Full of Soldiers" by Richard Newman
December 11, 2015: "It Does Kind of Burn. Goodbye." by Henry Crawford
December 10, 2015: "The Night and the Cold" by Charles Simic
November 5, 2014: "At Last" by Gerald Stern
November 3, 2014: At Last by Edward Nobles
January 16, 2013: "Report from the Provinces" by Wayne Miller
Home Web Weekly Features Archives About Verse Daily FAQs Submit to Verse Daily

Copyright © 2002-2016 Verse Daily All Rights Reserved