®

Today's poem is "Plane Full of Soldiers *"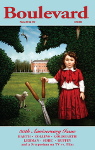 from Boulevard
Richard Newman
is the autllor of the poetry collections All the Wasted Beauty of the World (Able Muse Press, 2014), Domestic Fugues (Steel Toe Books, 2009), and Borrowed Towns (Word Press, 2005). He is editor of River Styx and plays in the junk-folk band The CharFlies.
Other poems by Richard Newman in Verse Daily:
October 10, 2009: "Little Fugue of Love and Death" "The sky is gray. My joints are old...."
August 16, 2007: "Bless Their Hearts" " At Steak-n-Shake I learned that if you add..."
August 8, 2007: "Home" " I like my hometown more..."
Books by Richard Newman:

Other poems on the web by Richard Newman:
Two poems
Two poems
Five poems
Three poems
Richard Newman according to Wikipedia.
About Boulevard:

Subscription: 1 yr (3 issues) $15
Boulevard * 6614 Clayton Rd * Box 325 * Richmond Heights, MO 63117
Senior Editors: Edmund de Chasca * Eric Miles Williamson
Other poems by Boulevard in Verse Daily:
December 11, 2015: "It Does Kind of Burn. Goodbye." by Henry Crawford
December 10, 2015: "The Night and the Cold" by Charles Simic
November 5, 2014: "At Last" by Gerald Stern
November 3, 2014: At Last by Edward Nobles
January 16, 2013: "Report from the Provinces" by Wayne Miller
Home Web Weekly Features Archives About Verse Daily FAQs Submit to Verse Daily

Copyright © 2002-2015 Verse Daily All Rights Reserved