®

Today's poem is "In the Between"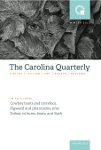 from The Carolina Quarterly
Kathleen Hellen
is the author of Umberto's Night (2012). winner of the Washington Writers' Publishing House poetry prize, and The Girl Who Loved Mothra (2010). Her poems have appeared or are forthcoming in American Letters & Commentary; Barrow Street; Drunken Boat; Evergreen; New Letters; Prairie Schooner; Sycamore Review; Witness; among others. Awards include first-place poetry prizes from the H.O.W Journal and Washington Square Review.
Books by Kathleen Hellen:
Other poems on the web by Kathleen Hellen:
Four poems
"Wages"
"Friendly Borders"
Two poems
"Common"
Two poems
Five poems
"Picnic"
"Reprise"
Poet Name's Blog.
Poet Name's Website.
Poet Name According to Wikipedia.
Poet Name on Twitter.
About The Carolina Quarterly:

Subscription: 1 year (3 issues), $24
The Carolina Quarterly * CB # 3520, Greenlaw Hall * UNC – CHAPEL HILL * Chapel Hill, N.C. 27599-3520
Poetry Editor: Lee Norton

Other poems from The Carolina Quarterly in Verse Daily:
October 19 2015: "Field Religion" by Doug Ramspeck
December 1, 2013: "Transcendence" by John Randolph Carter
November 28, 2013: "Turn and Return" by Suzanne Marie Hopcroft
July 20, 2012: "When she saw the angel" by Jean Nordhaus
June 28, 2012: "Rules for Arcadia" by David Kutz-Marks
June 18, 2012: "Liberation Two" by Ken Taylor
January 24, 2012: "Swath" by Stephanie E. Schlaifer
June 21, 2011: "The Helicopters" by William Virgil Davis
Home Web Weekly Features Archives About Verse Daily FAQs Submit to Verse Daily

Copyright © 2002-2015 Verse Daily All Rights Reserved