®

Today's poem is "Escaped Housewife Gives Three Good Reasons for Taking Up the Bagpipes"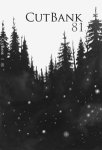 from Cutbank
Karen Craigo
teaches to international srudents at Drury University in Springfield, Missouri. A chapboo Someone Could Build Something Here, was published in 2013 by Wraged City Chapbook Press, and her previous chapbook, Stone for an Eye, is part of the Wick Poetry Series. Her work has appeared in the journals Atticus Review, Poetry, Indiana Review, Prairie Schooner, Puerto del Sol, The MacGuffin, an others.
Books by Karen Craigo:

Other poems on the web by Karen Craigo:
"Escaped Housewife Prefers the Term Cosmetologist"
"Death by Water"
"Escaped Housewife Sprouts a Dick"
"Inventory"
"Ten Sources of Light"
Two poems
"Does the Road Run East or West"
Two poems
Karen Craigo on Twitter.
About Cutbank:

Subscription: $10
Cutbank * College of Liberal Arts * 8600 University Boulevard * Evansville, Indiana 47712
Poetry Editors Lauren de Paepe * Kate Di Nitto * Khaty Xiong
Other poems by Cutbank in Verse Daily:
November 19, 2014: "Elegy in which a Bird Appears" by Jody Rambo
November 17, 2014: "Iithey" by David Tomas Martinez
May 7, 2014: "Repent" by Gary L. McDowell
April 29, 2014: "[While I—Breathless...]" by Rebecca Aronson
October 26, 2013: Two Poems by Abraham Smith
October 21, 2013: "Neolithic Revolution" by Ali Shapiro
July 11, 2013: "Karaoke" by Brandon Kreitler
July 10, 2013: "Oquossoc" by Sara Gelston
February 25, 2013: "Hearing is a Talent That Must be Honed" by Brianna Noll
Home Web Weekly Features Archives About Verse Daily FAQs Submit to Verse Daily

Copyright © 2002-2015 Verse Daily All Rights Reserved