®

Today's poem is "On Hearing of Your Hearing Loss"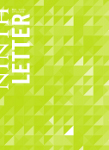 from Ninth Letter
Jessica Goodfellow
's books are Mendeleev's Mandala (MayApple Press), The Insomniac's Weather Report (Three Candles Press First Book Prize winner, reissued by Isobar Press, 2014), and the chapbook A Pilgrim's Guide to Chaos in the Heartland (Concrete Wolf, 2006). Her work has been featured in Best New Poets, Verse Daily, and The Writer's Almanac, and she has received the Chad Walsh Poetry Prise from the Beloit Poetry Journal . She lives in Japan.
Other poems by Jessica Goodfellow in Verse Daily:
June 3, 2015: "Regretfully Yours" "Who knows a burden better than a willow?..."
July 8, 2011: "Navigating by the Light of a Minor Planet" "The trouble with belief in endlessness is..."
December 8, 2008: ": Shadow : Dwelling : " "Dwelling in a foreign land. Time is the only familiar..."
January 25, 2007: "Road Trip" " Because the horizon is not a number line..."
March 30, 2006: "What You See If You Use Water as a Mirror" " In Shinto, the eight elements..."
Books by Jessica Goodfellow:

Other poems on the web by Jessica Goodfellow:
Two poems
"Wakening"
"Search Party, Called Off"
"Fare"
Three poems
"Not Seeing"
"Crows, Reckoning"
": glass : trap :"
Four poems
"How to Find a Missing Father in a Town that Isn?t There"
": rules : wind :"
"November Nocturne"
"The Beach at Big Salt"
": Map : Glass : "
": Form : Shadow :"
"Poem for My Friends"
"In Praise of Imperfect Love"
"Advanced Alchemy"
Jessica Goodfellow's Blog.
Jessica Goodfellow's Web site.
Jessica Goodfellow on Twitter.
About Ninth Letter:

Subscription: 1 year (2 issues), $21.95
Ninth Letter * University of Illinois * Department of English * 608 South Wright St. * Urbana, IL 61801
Poetry Editor: Michael Madonick

April 7, 2015: "Money" by Ricardo Pau-Llosa
September 19, 2013: "Doorknobs" by Lois Marie Harrod
September 19, 2013: "Doorknobs" by Lois Marie Harrod
July 18, 2013: "Refrain" by Maggie Glover
September 10, 2012: "Match" by Brynn Saito
August 19, 2011: "Peccadillo" by Scott Minar
July 29, 2010: "Unusable Elegy" by Zachary Harris
July 28, 2010: "Youths" by Michael Rutherglen
July 26, 2010: "Love Note" by Leslie Adrienne Miller
February 3, 2010: "Waking Up at the Wheel" by Christopher Kennedy
February 2, 2010: "Maimonides on What Is Meant by 'Vision'" by Benjamin Paloff
June 19, 2009: "A Great Whirring" by Bruce Snider
June 18, 2009: "It Is Virtually Without Thickness and Has Almost" by Angie Estes
June 16, 2009: "The Widdershins Garden" by Olivia Clare
Home Web Weekly Features Archives About Verse Daily FAQs Submit to Verse Daily

Copyright © 2002-2015 Verse Daily All Rights Reserved