®

Today's poem is "Lost"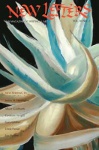 from New Letters
Eric Pankey
is the author of 10 collections of poetry, most recently Trace (Milkweed, 2013) and Dismantling the Angel (Parlor P, 2013). He teaches English in the M.F.A. Program at George Mason University, where he serves as the Heritage Chair in Writing.
Other poems by Eric Pankey in Verse Daily:
December 28, 2005: "Rain-Freighted" " Then the rain fell, as it does..."
November 28, 2005: "As A Damper Quells A Struck String" " To name the melon flower is not to chart the hypothetical..."
Books by "Eric Pankey" :

Other poems on the web by Eric Pankey:
Six poems
Two poems
Six poems
Two poems
Four poems
Three poems
Two poems
Two poems
"Tomb Furnishings"
"Film Still"
Eric Pankey's website.
Eric Pankey According to Wikipedia.
About New Letters:

Subscription: 1 year (4 issues), $22
New Letters * UMKC | University House * 5101 Rockhill Road * Kansas City, MO 64110-2499
Editor: Robert Stewart

Other poems from New Letters in Verse Daily:
February 17, 2015: "Secondary" by Albert Goldbarth
December 18, 2014: "Valentine" by Joseph Millar
November 26, 2014: "Winter Wind" by Stephen Dobyns
June 19, 2013: "Incantations to Snow" by Lawrence Revard
November 24, 2012: "Rembrandt, 'Self-Portrait, 1639'" by Peter Cooley
November 11, 2011: "Contra Chekhov" by Michael Salcman
January 27, 2010: "Tails" by Maxine Kumin
October 4, 2008: "Woven and Sewn" by Nancy White
October 3, 2008: Dante's The Inferno "Canto I" by Dante Alighieri, translated by Mary Jo Bang
September 29, 2008: "An Explanation" by Albert Goldbarth
December 13, 2007: "My Heart" by Kim Addonizio
December 11, 2007: "Uncles (Play)" by Kevin Young
November 24, 2007: "Watermelon" by Alice Friman
June 9, 2007: "Aware of Angels" by Mark Jarman
February 20, 2007: "The Deer" by Michael Chitwood
February 17, 2007: "Nighties" by Maria Mazziotti Gillan
September 23, 2006: "Aurora Borealis" by Mary Jo Salter
May 29, 2006: "Quail" by Dore Kiesselbach
November 23, 2005: "Migration" by Brian Swann
May 15, 2005: "Water Walking Stick" Stuart Friebert
May 7, 2005: "The Small Toe" Linda Hogan
January 12, 2005: "Awaiting the Return Ferry" by Nance Van Winckel
January 10, 2005: "How Else Today" by Albert Goldbarth
September 29, 2004: "Of Unsent Letters, One" by Jill Osier
September 28, 2004: "Go" and "Gone" by Mark Irwin
September 26, 2004: "Houses Made Only of Entrance" by Abe Louise Young
September 24, 2004: "After Eden" by Linda Pastan
May 16, 2004: "Wild Things in a Dream" by Heather Ross Miller
January 21, 2004: "With Two Camels and One Donkey" by Robin Becker
July 25, 2003: "Meridian" by Mia Leonin
May 26, 2003: "The Flag of My Disposition" by Elaine Sexton
April 14, 2003: "On the Holy Friar Crossing a Suspension Bridge to Paradise" by Joanna Goodman
February 3, 2003: "Passing Through the Shadows Of Great Buildings" by Nance Van Winckel
January 6, 2003: "Bid Me Be the Bird" by Nance Van Winckel
September 26, 2002: "The Sacrifice" by Jim Simmerman
Home Web Weekly Features Archives About Verse Daily FAQs Submit to Verse Daily

Copyright © 2002-2015 Verse Daily All Rights Reserved