®

Today's poem is "Field Religion"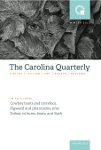 from The Carolina Quarterly
Doug Ramspeck
is the author of five poetry collections, most recently Original Bodies (Southern Indiana review Press, 2014), and Mechanical Fireflies (Barrow Street Press, 2011). His first book, Black Tupelo County (BkMk Press at the University of Missouri-Kansas City, 2008), received the John Cardi Prize. He Teaches at The Ohio State University at Lima.
Other poems by Doug Ramspeck in Verse Daily:
January 12, 2015: "The Human Velocity" "When, last August, our neighbor 's house burned down..."
August 9, 2012: "Starving Horse" "It is morning and no worse for it...."
March 4, 2011: "Feral Evening" "Not the bats diving..."
September 30, 2010: "Gorgeous Light" "We lived by a bay..."
July 23, 2009: "Bottomlands Tongue" "And so the burning of this sun beside the pickerelweeds..."
July 16, 2009: "Mermaid in my Fish Bowl" "I would say she was no larger..."
January 17, 2009: "Possum Nocturne" "The boy found a possum skull..."
May 17, 2008: "Late Husband" "In her dreams, then, she imagined him as feverish...."
Books by Doug Ramspeck:
Other poems on the web by Doug Ramspeck:
Two poems
"Gravity"
"Diaspora"
"Alluvial Prophecy"
Two poems
"Life in the Woods"
"One True Poem"
"After"
"Voodoo Sonnets"
"Deposition"
"Memoir"
Two poems
Six poems
"Tupelos"
"Love Theory"
Three poems
Four poems
"Smoke and Ash"
"Waterborne"
Two poems
"Ritual Cloud Line"
About The Carolina Quarterly:

Subscription: 1 year (3 issues), $24
The Carolina Quarterly * CB # 3520, Greenlaw Hall * UNC – CHAPEL HILL * Chapel Hill, N.C. 27599-3520
Poetry Editor: Lee Norton

Other poems from The Carolina Quarterly in Verse Daily:
December 1, 2013: "Transcendence" by John Randolph Carter
November 28, 2013: "Turn and Return" by Suzanne Marie Hopcroft
July 20, 2012: "When she saw the angel" by Jean Nordhaus
June 28, 2012: "Rules for Arcadia" by David Kutz-Marks
June 18, 2012: "Liberation Two" by Ken Taylor
January 24, 2012: "Swath" by Stephanie E. Schlaifer
June 21, 2011: "The Helicopters" by William Virgil Davis
Home Web Weekly Features Archives About Verse Daily FAQs Submit to Verse Daily

Copyright © 2002-2015 Verse Daily All Rights Reserved