®

Today's poem is "Algebra of the Sky"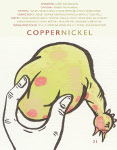 from Copper Nickel
David Hernandez
's most recent collection of poems is Hoodwinked (Sarabande Books, 2011). His awards include a Pushcart Prize, an NEA Literature Fellowship in Poetry, and the Kathryn A. Morton Prize. His poems have appeared in Ploughshares, The Missouri Review, Field, The Southern Review, and The Best American Poetry 2013.
Other poems by David Hernandez in Verse Daily:
October 9, 2014: "We Real Nerds" "We real nerds. We..."
August 26, 2014: "Sincerely, the Sky" "Yes, I see you down there..."
October 25, 2011: "Fooling the Buffalo" "A buffalo could outrun a lion, could outlast..."
May 25, 2005: "Fontanelle" ""In the womb our skull's not one bone..."
August 13, 2002: "Wile E. Coyote Attains Nirvana" "No wonder after each plummet..."
Books by David Hernandez:

Other poems on the web by David Hernandez:
"On Speaker"
"Happiness Epidemic"
"Building a Joke"
"This Is Just To Say I?m a Zombie"
"100 Best Flowers of the Year"
"Hornet's Nest"
"Lisa"
Two poems
Four poems
"Mosul"
"Museum Guard"
"Remember it Wrong"
Two poems
"The Butterfly Effect"
Five poems
David Hernandez's Home Page.
David Hernandez according to Wikipedia.
David Hernandez on Twitter.
About Copper Nickel:

Subscription: 1 year (2 issues), $20
Copper Nickel * Campus Box 175 * P O Box 173364 * Denver CO 80217-3364
Poetry Editor: Brian Barker * Nicky Beer
Other poems by Copper Nickel in Verse Daily:
December 22, 2015: "In Its Body" by Karina Borowicz
December 21, 2015: "Economica" by Tony Hoagland
August 13 2015: "I Went to the Market" by Michael Bazzett
July 29 2015: "Animal Space" by Sarah Rose Nordgren
July 28 2015: "koalas" by Jan Wagner (tr. David Keplinger)
July 27 2015: "I Also Do Impressions" by D.A. Powell
January 31, 2013: "Audubon Ate His Birds" by Kristin Robertson
January 28, 2013: "As Vivien As Blanche" by Mark Anthony Cayanan
January 26, 2013: "Landscape After Years With Yourself, West Texas" by Shamala Gallagher
March 24, 2012: "Lungful" by Brian D. Morrison
March 22, 2012: "The Decorator Crab," by Sarah Giragosian
March 21, 2012: "The Man in the Moon Retires to a Small House in a Valley" by Rick Bursky
December 2, 2011: "A Report" by Steve Langan
March 14, 2011: "Sometimes a woman sets off alarms" by Anna Journey
November 29, 2010: "Thirst" by Jennie Wrisley
November 26, 2010: "Lobster" by Matthew Minicucci
February 28, 2010: "A Whipsaw Takes Two Men" by Patricia Lockwood
February 25, 2010: "Blót" by A. E. Watkins
February 20, 2010: "Contrast" by Jericho Brown
February 16, 2010: "No Narrative" by A. E. Watkins
November 11, 2009: "Wedding Piñata" by James Hoch
November 10, 2009: "Stray Paragraphs, February, Year of the Rat" by John Estes
November 8, 2009: "Evasion of Privacy" by Jordan Davis
November 6, 2009: "The Interior Weather of Tree-Clinging Birds" by Sandy Longhorn
Home Web Weekly Features Archives About Verse Daily FAQs Submit to Verse Daily

Copyright © 2002-2015 Verse Daily All Rights Reserved