®

Today's poem is "I Also Do Impressions"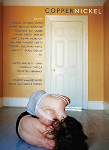 from Copper Nickel
D.A. Powell
's most recent collections are Useless Landscape, or A Guide for Boys (2012), which received the National Book Critics Circle Award in poetry, and Repast (2014), both from Graywolf Press. He lives in San Francisco.
Other poems by D.A. Powell in Verse Daily:
January 13, 2011: "Release the Sterile Moths" "The flutter, apple brown, invites..."
March 24, 2009: "confessions of a teenage drama queen " "I was a male war bride. I was a spy..."
Books by D.A. Powell:

Other poems on the web by D. A. Powell:
Seventeen poems
Eight poems
"Ode to Joy"
Three poems
"Tarnished Angel"
Five poems
"[I was a priapic boy: the prow of a galleon]"
Two poems
"[listen mother, he punched the air: I am not your son dying]"
"[because as lives are aching I am lucky: a poisonal cup]"
D.A. Powell's Blog.
D. A. Powell according to Wikipedia.
D.A. Powell on Twitter.
About Copper Nickel:

Subscription: 1 year (2 issues), $20
Copper Nickel * Campus Box 175 * P O Box 173364 * Denver CO 80217-3364
Poetry Editor: Brian Barker * Nicky Beer
Other poems by Copper Nickel in Verse Daily:
January 31, 2013: "Audubon Ate His Birds" by Kristin Robertson
January 28, 2013: "As Vivien As Blanche" by Mark Anthony Cayanan
January 26, 2013: "Landscape After Years With Yourself, West Texas" by Shamala Gallagher
March 24, 2012: "Lungful" by Brian D. Morrison
March 22, 2012: "The Decorator Crab," by Sarah Giragosian
March 21, 2012: "The Man in the Moon Retires to a Small House in a Valley" by Rick Bursky
December 2, 2011: "A Report" by Steve Langan
March 14, 2011: "Sometimes a woman sets off alarms" by Anna Journey
November 29, 2010: "Thirst" by Jennie Wrisley
November 26, 2010: "Lobster" by Matthew Minicucci
February 28, 2010: "A Whipsaw Takes Two Men" by Patricia Lockwood
February 25, 2010: "Blót" by A. E. Watkins
February 20, 2010: "Contrast" by Jericho Brown
February 16, 2010: "No Narrative" by A. E. Watkins
November 11, 2009: "Wedding Piñata" by James Hoch
November 10, 2009: "Stray Paragraphs, February, Year of the Rat" by John Estes
November 8, 2009: "Evasion of Privacy" by Jordan Davis
November 6, 2009: "The Interior Weather of Tree-Clinging Birds" by Sandy Longhorn
Home Web Weekly Features Archives About Verse Daily FAQs Submit to Verse Daily

Copyright © 2002-2015 Verse Daily All Rights Reserved