®

Today's poem is "Man"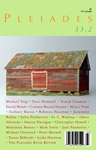 from Pleiades
Michael Bazzett
has two chapbooks forthcoming, They: A Field Guide (Barge Press) and The Unspoken Jokebook (Burning River).
Other poems by Michael Bazzett in Verse Daily:
August 21, 2012: "The Body" "The body is a book and we the words. Footsteps..."
July 9, 2012: "The Buzzard and Reversal" "That hooked beak..."
Other poems on the web by Michael Bazzett:
"Elsewhere"
"The Burro"
"Couched"
"In the Capital"
Three poems
Two poems
"Chain Store"
"Fourteen Lines about Sunflowers"
"The Usefulness of Marriage"
Three poems
"Wasp in March"
"Nine Possible Observations to Consider"
"Theft"
"The Disintegrated Man"
"Expiration Date"
"Rain"
"Lying in a Hammock"
"Things No One Expected To Be True Until Viewing the Film"
About Pleiades:

Subscription: $16
Pleaides: A Journal of New Writing * Department of English * Central Missouri State University * Warrensburg, MO 64093 Editor: Kathryn Nuernberger

Other poems from Pleiades in Verse Daily:
August 21, 2013: "Paranoia Is a Kind of Rain" by Daniel Moysaenko
August 20, 2013: "Dift" by Gregory Lawless
May 1, 2013: "Phlogiston Footage" by Nicky Beer
April 26, 2013: "Elegy" by Cintia Santana
April 25, 2013: "Brief Study of Parades" by Jill Osier
April 24, 2013: "How I Made My Money" by Noah Blaustein
July 12, 2012: "In a Landscape: XLI" by John Gallaher
July 11, 2012: "The Last Word" by William Olsen
July 10, 2012: "This Is What It Feels Like When I'm Telling the Truth" by Kent Shaw
July 9, 2012: "The Buzzard and Reversal" by Michael Bazzett
February 15, 2012: "Body of Moving and Light" by Peter Streckfus
February 13, 2012: "A Prisoner of Things" by Alan Michael Parker
September 7, 2011: "Camera Lucida" by Joshua Diamond
September 6, 2011: "Like a Machine, Struggle for Mother" by Andrea Baker
September 1, 2011 "Arrows" by Bruce Bond
March 10, 2011: "Man as a Red Dress" by Victoria Chang
March 7, 2011: "Aspirin and Shadow" by Chris Forhan
March 1, 2008: "Apostasy" by Carol Quinn
June 27, 2007: "The Sunset" by Randall Mann
June 25, 2007: "There Is No Pretending" by Mary Jo Bang
February 13, 2005: "Ironwork" by Stephanie Bolster
February 12, 2005: "Afterworld" by Sophie Cabot Black
February 11, 2005: "Cruelties" by Stephen Dunn
Home Web Weekly Features Archives About Verse Daily FAQs Submit to Verse Daily

Copyright © 2002-2013 Verse Daily All Rights Reserved