®

Today's poem is "This World is Only Going to Break Your Heart"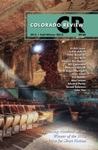 from Colorado Review
Corey Van Landingham
recently completed her MFA at Purdue University, where she was a poetry editor for Sycamore Review. She has won the Indiana Review's 1/2 K Prize and the 2012 AWP Intro Journals Award and was awarded a Bread Loaf Work-Study Scholarship. Her poems have appeared or are forthcoming in Crazyhorse, Hayden's Ferry Review, Indiana Review, Mid-American Review, the Southern Review, Third Coast, West Branch, and elsewhere.
Other poems on the web by Corey Van Landingham:
"Decreation"
"The Architecture of Fathers"
Corey Van Landingham on Twitter.
About Colorado Review:

Subscription: 1 year (2 issues), $20
Colorado Review * 9105 Campus Delivery * Department of English * Colorado State University * Fort Collins, Colorado 80523-9105
Editor: Matthew Cooperman, Donald Revell, Sasha Steensen

Other poems from Colorado Review in Verse Daily:
Subscription: 1 year, $24
Colorado Review * 9105 Campus Delivery * Department of English * Colorado State University * Fort Collins, Colorado 80523
Poetry Editors: Donald Revell * Sasha Steensen * Matthew Cooperman

All other poems from Colorado Review that have appeared on Verse Daily:
March 4, 2013: "Another Pastoral A" by Aaron McCollough
November 2, 2012: "Just Vanilla" "She was a pistol...."
October 31, 2012: "After the Feast at Year's End" by Brenda Hillman
October 30, 2012: "Une Lettre de la Mer de Glace" by Jo Ann Clark
July 17, 2012: "Sleep Song" "I want to remember the picture..."
July 16, 2012: "When a Man and a Woman Are Alone Together, the Third Person Present Is Satan" by Claire Sylvester Smith
December 23, 2011: "Cursive" by Elizabeth Willis
December 22, 2011: "Where They Feed Their Children to Kings" by John Gallaher
September 28, 2011: "Portrayal, X-Ray" by Cori A. Winrock
September 26, 2011: "The Strategy" by Kascha Semonovitch
June 23, 2011: "The Commendation" by Dean Young
August 21, 2010: "Conditionals" by Ryan Flaherty
December 23, 2009: "Untitled" by Ryan Flaherty (translated by Rosmarie Waldrop)
August 29, 2009: "Repititions" by Jennifer Moxley
April 6, 2009: "The People on the Bus" by Stephen Burt
April 4, 2009: "A List of Possibilities in an Uncertain Order" by Jack Ridl
April 2, 2009: "Iridescent, One Might Say" by Mary Ann Samyn
March 31, 2009: "Secret Sea" by Nathan Parker
March 30, 2009: "Hare" by Joseph Campana
January 6, 2009: "Ontology and the Platypus" by Kathy Fagan
August 8, 2008: "Smithereens" by L. S. Klatt
August 6, 2008: "Diorama with a 20-Watt Bulb Inside" by John Isles
April 18, 2008: "Bends" by Ron Paul Salutsky
April 15, 2008: "Schrödinger Reincarnated" by Dana Curtis
January 4, 2008: "You'll See a Sailboat" by Jaswinder Bolina
January 2, 2008: "Furlough" by Leslie Williams
December 23, 2007: "Eye Contact" by Craig Morgan Teicher
December 17, 2007: "In a Better World Than This" by James Cushing
November 19, 2007: "Sestina with Random Peace Words" by Monica Raymond
November 22, 2007: "Fighting" by Dana Goodyear
November 21, 2007: "Flicker" by Joanna Klink
November 20, 2007: "Poem Beside Itself" by Graham Foust
November 19, 2007: "Sestina with Random Peace Words" by Monica Raymond
November 8, 2007: "If You Should Care For Me" by Lacy Schutz
October 29, 2007: "Would That We Had" by DLacy Schutz
Home Web Weekly Features Archives About Verse Daily FAQs Submit to Verse Daily

Copyright © 2002-2013 Verse Daily All Rights Reserved