®

Today's poem is "An Emergency Every Day of the Week"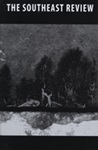 from The Southeast Review
Christopher Citro
's poetry appears or is forthcoming in Salamander; Cream City, Los Angeles Review, The Minnesota Review, Poetry East, Fourteen Hills, Kugelmass, Superstition Review, Verse Daily, and elsewhere. Recent broadsides of his poetry are available from Press, Broadsided, and Thrush Press. Christopher is a past recipient of a Langstonn Hughes Creative Writing Award for poetry. Other poems by Author Name in Verse Daily:
November 26, 2009: "I Never Intend To, How 'Bout You?" "It's eight o'clock. Time to plug the ladder in. I love our new..."
September 4, 2009: "Emily, It's Better This Way" "They landed in the morning and nothing happened...."
Other poems on the web by Christopher Citro:
Four poems
"Help! I'm Floating!"
Three poems
"Improving the Odds"
Three poems
Six poems
"Apparently, I'm Not a Joiner"
Two poems
Five poems
"Me in My Place"
Three poems
"Done Playing Hard To Get"
"First Indications (of Trouble at the Ranch)"
Christopher Citro's Website.
About The Southeast Review:

Subscription: 1 year (2 issues), $15
The Southeast Review * Department of English * Florida State University * Tallahassee, FL 32306
Poetry Editor: Sarah Greive
Other poems from The Southeast Review in Verse Daily:
May 4, 2013: "Like Father" by Rich Smith
May 2, 2013: "Love Poem for What It Is" by Rebecca Hazelton
January 16, 2012: "Dear So-and-So" by Monica Berlin
January 28, 2011: "Romanticism" by Ashley Elizabeth Hudson
September 23, 2008: "The Huntsman's Resumé" by Angela Vogel
March 31, 2008: "Ostriches" by C.J. Sage
April 14, 2006: "This Is for the Thunder" by Richard Brostoff
December 8, 2002: Between Them by Ron Mohring
December 2, 2002: Marriage as Creative Process by Julianna Baggott
Home Web Weekly Features Archives About Verse Daily FAQs Submit to Verse Daily

Copyright © 2002-2013 Verse Daily All Rights Reserved