®

Today's poem is "Barter"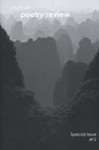 from Southern Poetry Review
Michael Chitwood
Chapel Hill, NC. Most recent: Poor-Mouth Jubilee (Tupelo Press, 2010).
Other poems by Michael Chitwood in Verse Daily:
August 4, 2011: "Near Miss" "It's a hands-in-your-coat-pockets-stroll kind of a day...."
July 4, 2011: "At the Dock at Dusk" "The rowboats are all tucked in..."
December 10, 2010: "Going" by "To seep..."
December 18, 2008: "Barter" "We invented money..."
December 16, 2007: "Blue Sky" "Everyone he knew believed in God...."
February 20, 2007: "The Deer" "I am being prayed for...."
Books by Michael Chitwood:

Other poems on the web by Michael Chitwood:
Four poems
Four poems
Three poems
"Dense Fog in Which I Miss the Eastern Seaboard's Largest Flag Flying over a Toyota Dealership off I-95 near Washington, D.C."
"The Ladder"
Five poems
Two poems
Three poems
Two poems
"Heat"
"Sheds"
"The Snowfields at Lone Fountain"
"Duty and History"
Four poems
"The Small-Town Voice of God"
About Southern Poetry Review:

Subscription: 1 year (2 issues), $12
Southern Poetry Review * Dept. of Languages, Literature and Philosophy * Armstrong Atlantic State University * 11935 Abercorn Street * Savannah, Georgia 31419-1997
Editor: Robert Parham
Other poems by Southern Poetry Review in Verse Daily:
July 18, 2012: "Lightweights" by Jeff Hardin
March 13, 2010: "Woodpecker" by Harry Bauld
August 19, 2009: "Ebb" by Martha Zweig
August 18, 2009: "Barter" by Jeff Hardin
August 13, 2009: "Lifeguards" by William Greenway
March 2, 2009: "Jellyfish" by George David Clark
January 15, 2009: "Theology" by K. A. Hays
January 13, 2009: "Bees" by Cathryn Essinger
January 12, 2009: "Gamophobia" by Patrick Ryan Frank
December 21, 2008: "Maximillian Sunflowers" by Brett DeFries
December 19, 2008: "The Dead" by Fleda Brown
December 18, 2008: "Barter" by Michael Chitwood
October 30, 2006: "Revival" by Jeannette Barnes
October 25, 2006: "Trillium" by Fleda Brown
Home Web Weekly Features Archives About Verse Daily FAQs Submit to Verse Daily

Copyright © 2002-2012 Verse Daily All Rights Reserved